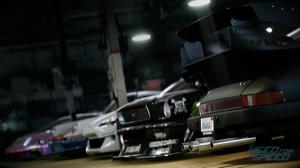 GOTHENBURG, Sweden--(BUSINESS WIRE)--
Ghost Games™, an Electronic Arts Inc. (EA) studio, announced today the car culture icons who have inspired the narrative behind the reboot of Need for Speed™, and revealed how technology is blurring the lines between live action film and in-game.
This Smart News Release features multimedia. View the full release here: http://www.businesswire.com/news/home/20150805005071/en/
Play as yourself in Need for Speed and witness the action from your own point of view as your entourage of friends and the icons entice you into the Five Ways to Play. Make choices that will determine your path through Ventura Bay as you build your reputation through the different styles of driving and progress on your journey to become the ultimate icon.
The real world automotive icons are the stars of today's urban car culture and have inspired the stories behind the gameplay by how they express themselves on the streets every day.
Speed Icon - Magnus Walker collects and restores classic Porsche 911s. He is known for his high speeddriving and will push you to enhance your reputation through adrenaline-fuelled driving.
Style Icon - Ken Block is notorious for his style of aggressive driving, as he showcases in his phenomenal YouTube GYMKHANA series. Earn his recognition by mastering the...
More