Every commodity rallies, but the #coffee? Important signals!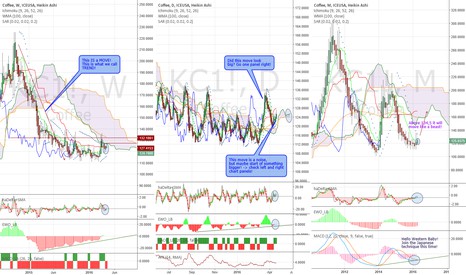 Just few important bullett points to make you think about what a real move looks like, how long divergences can last, and why you have to stick to a position once it really accelerates!

- Weekly Heikin-Ashi pattern is turning bullish . Still small candle, but haDelta/SMA promising.
- Weekly Kumo is very thin ahead.
- EWO has built a positive divergence for year! Yet price was dropping. Now EWO turned bullish!
- Weekly key levels are 127,5 / 133+ / 148-150
- Weekly Chikou Span (lagging line) may cross back above past candles in coming weeks (weak bullish )

- Daily comments up on the chart. Price not yet really moved, but it can be start of something bigger!
- Daily Senkou A points up, despite Tenkan is below Kijun (due to recent volatility)

Very rarely I look at Monthly charts. And for the last few years I very rarely look at my ex favourite indicator MACD (used it with Stochastic before I started to use combined Japanes techniques). But now it is a beauty!

- MONTHLY MACD BULLISH CROSS AT A HIGHER POINT
- Monthly Heikin-Ashi switches to bullish

Some like it black, "Some like it hot!"

Note: I am already 1 unit long.