Coca Cola Femsa S.A.B. de C.V. KOF produces and distributes trademark beverages of The Coca-Cola Company. This Zacks Rank #1 (Strong Buy) company has solid prospects and should make a valuable addition to your portfolio. Let us delve deeper into the other factors which make this stock a lucrative pick.

Stock Price Movement

Shares of Coca Cola Femsa have returned over 38% so far this year, comparing favorably with the Beverages - Soft Drinks industry's gain of 11.7%. That said, we noticed that the company has outperformed the industry in each of 4-week, 12-week and 52-week time frames.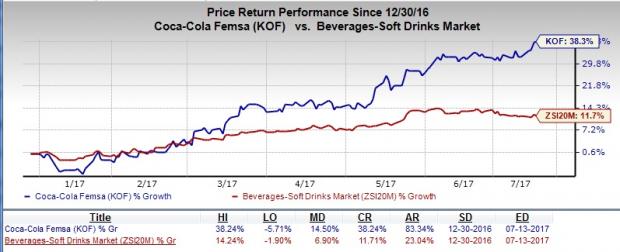 Earnings & Revenue Growth

Coca Cola Femsa makes a great growth investment pick. Typically, an aggressive growth trader is interested in growth rates 20% or higher.

Coca Cola Femsa has put up a historical EPS growth rate (average trailing 12-month EPS growth rate over the last 3-5 years of actual earnings) of 52.5%, compared with the industry average of 7.2%. Again, the company's 2017 EPS growth is projected at 39.7%, more than the Zacks categorized Beverages - Soft Drinks industry's average EPS growth projection of 12.4%.

Notably, the company's sales growth in 2017 is projected at around 23.1%.

For all these reasons, the company currently has a Growth Score of 'B' on our style score system that helps us identify potential outperformers.

Earnings History and Future Estimates

Coca Cola Femsa has remarkably beaten earnings estimates in two of the trailing four quarters, recording an average beat of 23.35%.

Furthermore, over the past 30 days, the company has been seeing an upward trend in earnings estimate revision for 2018 (up 4.3%) and 2018 (up 4.7%). These positive earnings estimate revisions indicate analysts' confidence in the stock and also add to the optimism.

Valuation Looks Rational

The company currently has a trailing 12-months Price-to-Earnings (P/E) ratio of 26.07, which is below the high of 35.88 over the past five years. Moreover, its forward P/E ratio (price compared to this year's earnings) is lower at 24.04. This indicates that a slightly more value-oriented path may be ahead for Coca Cola Femsa.

Looking at the company's sales, the company currently trades at a Price-to-sales (P/S) ratio of 2.00, lower than the industry average of 4.60. Some prefer this metric over other value-focused ones because sales are harder to manipulate with accounting tricks than earnings.

Industry Outlook Positive

The Zacks Beverages - Soft Drinks industry has outperformed the broader market on a year-to-date basis. Currently, the industry ranks among the top 10% (26 out of 265 industries). Along with the strong past performance of the industry, a good industry rank signals that the stock is likely to benefit from favorable broader factors in the immediate future.

Bottom Line

Coca Cola Femsa is expected to perform well in the quarters ahead, given its strong fundamentals. Moreover, the company's VGM Score of 'B' coupled with a Zacks Rank #1 makes for a solid investment choice.

Other Stocks to Consider

Other top-ranked stocks in industry include Fomento Economico Mexicano S.A.B. de C.V. FMX, Coca-Cola European Partners PLC CCE and Dr Pepper Snapple Group, Inc DPS.

All three companies carry a Zacks Rank #2 (Buy). You can see the complete list of today's Zacks #1 Rank stocks here.
Fomento Economico is likely to witness a 15.9% rise, while Coca-Cola European Partners is expected to exhibit 11.9% growth in 2017 earnings.

Dr Pepper Snapple is likely to witness 6% growth in 2017 earnings.

More Stock News: This Is Bigger than the iPhone!

It could become the mother of all technological revolutions. Apple sold a mere 1 billion iPhones in 10 years but a new breakthrough is expected to generate more than 27 billion devices in just 3 years, creating a $1.7 trillion market.

Zacks has just released a Special Report that spotlights this fast-emerging phenomenon and 6 tickers for taking advantage of it. If you don't buy now, you may kick yourself in 2020. Click here for the 6 trades >>
Want the latest recommendations from Zacks Investment Research? Today, you can download 7 Best Stocks for the Next 30 Days.
Click to get this free report
Fomento Economico Mexicano S.A.B. de C.V. (FMX): Free Stock Analysis Report
Coca-Cola European Partners PLC (CCE): Free Stock Analysis Report
Dr Pepper Snapple Group, Inc (DPS): Free Stock Analysis Report
Coca Cola Femsa S.A.B. de C.V. (KOF): Free Stock Analysis Report
To read this article on Zacks.com click here.
Zacks Investment Research