Nvidia Corporation (NVDA) just released its second-quarter financial results, posting earnings of 92 cents per share and revenues of $2.23 billion. Currently, NVDA is a Zacks Rank #2 (Buy) and is down 4.90% to $156.67 per share in trading shortly after its earnings report was released.
Nvidia:
Beat earnings estimates. The company posted earnings of $0.92, beating the Zacks Consensus Estimate of $0.69.
Beat revenue estimates. The company saw revenue figures of $2.230 billion, beating our consensus estimate of $1.948 billion.
Total revenues were up 56% year-over-year. GAAP profits gained 124%, while non-GAAP earnings swelled 91%.
For the third quarter, Nvidia expects revenue to be $2.35 billion, give or take 2%. Our current consensus estimate is calling for revenue of $2.14 billion, so this guidance looks strong. Additionally, GAAP and non-GAAP gross margins are expected to be 58.6 percent and 58.8 percent, respectively.
"Adoption of NVIDIA GPU computing is accelerating, driving growth across our businesses," said Nvidia CEO Jensen Huang. "Datacenter revenue increased more than two and a half times. A growing number of car and robot-taxi companies are choosing our DRIVE PX self-driving computing platform. And in Gaming, increasingly the world's most popular form of entertainment, we power the fastest growing platforms - GeForce and Nintendo Switch."
"Nearly every industry and company is awakening to the power of AI. Our new Volta GPU, the most complex processor ever built, delivers a 100-fold speedup for deep learning beyond our best GPU of four years ago," Huang added.
Here's a graph that looks at Nvidia's earnings performance history:
NVIDIA Corporation Price, Consensus and EPS Surprise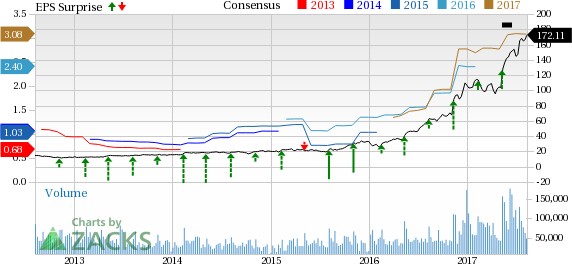 NVIDIA Corporation Price, Consensus and EPS Surprise | NVIDIA Corporation Quote
NVIDIA Corporation designs, develops and markets a top-to-bottom family of award-winning 3D graphics processors, graphics processing units and related software that set the standard for performance, quality and features for every type of desktop personal computer user, from professional workstations to low-cost computers. NVIDIA Corporation's 3D graphics processors are used in a wide variety of applications, including games, the Internet and industrial design.
Check back later for our full analysis on NVDA's earnings report!
Want more stock market analysis from this author? Make sure to follow @
https://twitter.com/Ryan_McQueeney
on Twitter!
One Simple Trading Idea
Since 1988, the Zacks system has more than doubled the S&P 500 with an average gain of +25% per year. With compounding, rebalancing, and exclusive of fees, it can turn thousands into millions of dollars.
This proven stock-picking system is grounded on a single big idea that can be fortune shaping and life changing. You can apply it to your portfolio starting today.
Want the latest recommendations from Zacks Investment Research? Today, you can download 7 Best Stocks for the Next 30 Days.
Click to get this free report
NVIDIA Corporation (NVDA): Free Stock Analysis Report
To read this article on Zacks.com click here.