International Business Machines Corp IBM reported second-quarter 2017 non-GAAP earnings of $2.97 per share, which increased 0.7% from the year-ago quarter and beat the Zacks Consensus Estimate by 24 cents (8.8%).

Revenues of $19.30 billion missed the Zacks Consensus Estimate of $19.49 billion and decreased 4.7% year over year. At constant currency (cc), revenues declined 3%. However, revenues improved 6.2% sequentially. Unfavorable foreign exchange negatively impacted revenues by almost 200 basis points (bps), which was partially offset by 40 bps benefit from acquisitions.

Geographically, in the Americas (down 3% at cc), revenues in the U.S. were down (5% at cc) while management noted solid growth in Canada (up 2% at cc) and Latin America. Revenues in Europe, Middle-East and Africa (down 5%) declined due to weakness in Germany and U.K. IBM noted sequential improvement in Asia-Pacific revenues (down 1% at cc) including Japan (up 1% at cc).

IBM expects sluggish revenues in the third-quarter due to seasonality. Management projects sequential decline of almost $1 billion, which is anticipated to be partially mitigated by revenue contributions from the new mainframe product and new services contracts ($200–$300 million contribution).

International Business Machines Corporation Price, Consensus and EPS Surprise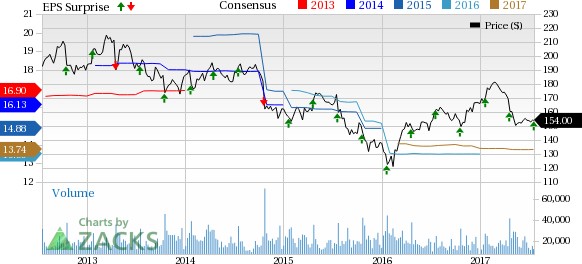 International Business Machines Corporation Price, Consensus and EPS Surprise | International Business Machines Corporation Quote
Shares fell 2.79% in after-hour trading following the second-quarter announcement. Despite the quarterly earnings beat, we do not expect shares to rebound in the near term due to the weakness in revenue growth rate.

We note that IBM has underperformed the S&P 500 Index on a year-to-date basis. While the index generated gains of 10.1%, IBM shares decreased 7.2%.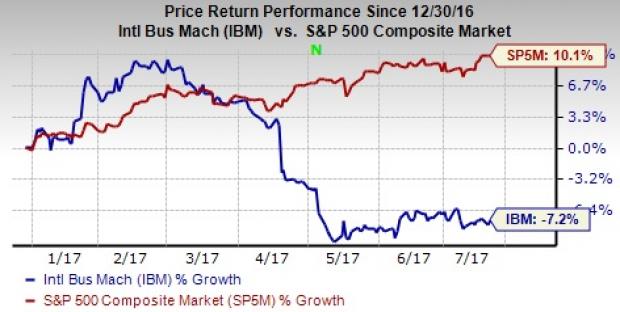 Strategic Imperatives

IBM has been moving away from its traditional businesses to newer (read lucrative) business avenues like cloud and data analytics. Though IBM's Strategic Imperatives (cloud, analytics, mobility and security) are performing well, the revenue decline reflected that these are not sufficient to suffice the weakness in traditional businesses yet.

In the second quarter, IBM's strategic imperatives revenues increased 5% (up 7% at cc) to $8.8 billion. On a trailing 12-month basis, revenues from strategic imperatives increased 12% to more than $34 billion and now represent 43% of the company's total revenue.

Cloud revenues increased 17% to $3.9 billion. The annual run rate for cloud as-a-service revenue increased 30% (up 32% at cc) on a year-over-year basis to $8.8 billion. Cloud revenue on a trailing 12-month basis is now over $15 billion, almost 20% of the company's total revenue.

IBM noted that Llyods Bank and American Airlines were two notable companies that selected its hybrid cloud in the quarter.

Revenues from analytics (largest of the company's strategic imperatives) increased 6% at cc to $5.1 billion. Revenues from mobile surged 29% at cc to $1.2 billion. Security revenues increased 5% at cc to $600 million.

Segment Revenue Details

Cognitive Solutions (solutions software and transaction processing software) revenues dipped 1% at cc to $4.60 billion. IBM reported that solutions software revenues were flat, while transaction processing software revenues declined 4%.

Annuity content (80% of cognitive) was up 2% year over year driven by roughly 4.5% growth in solution software. The company reported strong SaaS performance with signings up double-digit in the quarter.

Analytics results came on the back of strong growth in Watson health and Watson financial services. Cognos drove growth in Business Intelligence (BI) and data discovery. Conversation API usage and the number of active users increased double-digit sequentially.

IBM announced a partnership with Hortonworks HDP to combine its data science experience in machine learning with Hortonworks data platform. The collaboration will allow developers to access data science and cognitive tools as well as create intelligent apps.

Segmental revenues pertaining to Strategic Imperatives and Cloud grew 1% and 24%, respectively. Cloud as-a-service revenue annual run rate was $1.9 billion.

Revenues from Global Business Services segment were $4.10 billion down 2% at cc. Signings improved for the second consecutive quarter. Segmental revenues pertaining to Strategic Imperatives grew 11%. Cloud practice surged 39%. Cloud as-a-service revenue annual run rate was $1.1 billion.

IBM reported that both Application Management and Consulting revenues declined 1%, while Global Process Services revenues decreased 7%.

Consulting backlog remained almost flat on a year-over-year basis after several quarters of decline. Management expects the consulting trajectory improvement to continue in second-half 2017.

Mobile practice continues to expand with a portfolio of cognitive enabled enterprise iOS apps that can redesign clients' workflows. During the quarter, management announced new initiatives at several different clients including Lufthansa Group and Singapore Airlines.

Revenues from Technology Services and Cloud Platforms decreased 4% at cc to $8.41 billion. Segmental revenues pertaining to Strategic Imperatives advanced 22%. Cloud increased 21% from the year-ago quarter. Cloud as-a-service revenue annual run rate was $5.8 billion.

Both Integration Software and Technical Support Services slipped 1%, respectively. Infrastructure Services dipped 5% this quarter, as the company continued its transition from lower value work. Notably, the company won a six-year $700 million contract from Bombardier.

Systems (systems hardware and operating systems software) segment fell 10% at cc on a year-over-year basis to almost $1.75 billion. The decline primarily reflects lower z Systems and Power revenues.

IBM added four new z systems clients in the quarter. The company recently launched new z14 mainframe, which is capable of running more than 12 billion encrypted transactions per day and provides breakthrough pervasive encryption.

The company also announced the new version of Power AI which paired with IBM Linux HPC servers reduces training of deep learning from weeks to hours. The company is expected to ship the next-gen Power 9 in the fourth quarter.

Segmental revenues pertaining to Strategic Imperatives declined 15%. Cloud revenues fell 17%.

Operating Systems Software revenues declined 8%, while Systems Hardware fell 10% from the year-ago quarter. Storage hardware was up 8% backed by double-digit growth in all-flash array offerings.

Security revenues grew 5% at cc in the quarter driven by offerings like QRadar and Resilient. IBM also announced a partnership with Cisco CSCO to address growing threat of cyber crime.

Global Financing (includes financing and used equipment sales) revenues slipped 2.1% at cc to $415 million.

Expanding Watson Offerings

IBM continues to expand Watson offerings. During the quarter, Watson for oncology was selected by a Latin American healthcare provider as well as China-based Baheal Pharmaceutical Group. IBM noted that 80% of the hospitals who have adopted Watson for oncology are situated outside the U.S. The rapid adoption opens up significant top-line growth opportunities in the long haul.

IBM also announced a new collaboration with Hackensack Meridian Health, a prominent U.S. provider to combine Watson for Oncology with their real world data to aid oncologists improve cancer treatment and reduce costs.

Management also noted that Watson is now used by well known companies like Honda and Vodafone.

Blockchain Initiatives Gaining Momentum

IBM is involved in a number of Blockchain initiatives as the technology gains rapid mainstream adoption. The company recently announced an agreement with a consortium of seven of Europe's top banks to create a new Blockchain service for trade finance for the small and medium business market.

In Australia, IBM is working with banks to launch new commercial property leasing services based on the technology. During the quarter, the company along with AIG and Standard Chartered piloted a multinational insurance policy utilizing the Blockchain technology.

Apart from financial services, IBM is working with leading retailers like Walmart WMT to track everything from food safety, to pork production in China, and even mango shipments by using the Blockchain technology.

Margins

Non-GAAP gross margin contracted 180 bps to 47.2% from the year-ago quarter, reflecting unfavorable product mix and continuing investments. Moreover, pre-tax margin from continuing operations contracted 220 bps on a year-over-year basis to 17.1%.

Segment wise, Global Business Services and Technology Services & Cloud Platforms pre-tax margin contracted 340 bps and 240 bps, respectively. This was partially offset by 440 bps expansion in Cognitive Solutions pre-tax margin.

Systems pre-tax income was $74 million as compared with income of $229 million reported in the year-ago quarter.

Balance Sheet & Cash Flow Details

IBM ended second-quarter 2017 with $12.30 billion in total cash and marketable securities as compared with $10.70 billion at the end of first-quarter 2017. Total debt (including global financing) was $45.7 billion, which increased $2.9 million from the end of the last quarter.

IBM invested about three quarters of $1 billion in capital expenditures focused on Watson and cloud platform areas, as well as in support of services and systems businesses.

IBM reported cash flow from operations (excluding Global Financing receivables) of $3.3 billion and generated free cash flow of $2.6 billion in the quarter. The free cash flow figure was much higher than free cash flow of $1.1 billion generated in the previous quarter. However, cash flow from operations decreased from $4 billion reported in the previous quarter.

In the reported quarter, IBM returned $2.8 billion to shareholders through dividends ($1.4 billion) and share repurchases ($1.4 billion). At the end of the quarter, the company had $2.4 billion remaining under current buyback authorization.

Guidance

IBM reiterated forecasts for 2017. Non-GAAP earnings are expected to be at least $13.80 per share. The company now anticipates free cash flow to remain flat over 2016.

Management expects Cognitive solutions revenue growth rate to improve at cc in the rest of 2017. Moreover, consecutive quarters of signings growth and significant growth in consulting backlog are anticipated to drive Global Business Services revenues.

Despite new contract wins, management doesn't expect Global Technology Services to report revenue growth in 2017. However, the new z14 mainframe and Power products will improve growth trajectory going forward

Moreover, new system product launches are anticipated to boost gross profit. Further, improving product mix and lower spending will help in driving profitability in the latter half of 2017.

Zacks Rank

IBM currently carries a Zacks Rank #3 (Hold). You can see the complete list of today's Zacks #1 (Strong Buy) Rank stocks here.
Looking for Stocks with Skyrocketing Upside?
Zacks has just released a Special Report on the booming investment opportunities of legal marijuana.

Ignited by new referendums and legislation, this industry is expected to blast from an already robust $6.7 billion to $20.2 billion in 2021. Early investors stand to make a killing, but you have to be ready to act and know just where to look. See the pot trades we're targeting>>
Want the latest recommendations from Zacks Investment Research? Today, you can download 7 Best Stocks for the Next 30 Days.
Click to get this free report
Cisco Systems, Inc. (CSCO): Free Stock Analysis Report
International Business Machines Corporation (IBM): Free Stock Analysis Report
Hortonworks, Inc. (HDP): Free Stock Analysis Report
Wal-Mart Stores, Inc. (WMT): Free Stock Analysis Report
To read this article on Zacks.com click here.
Zacks Investment Research