August's import prices dropped a stunning 11.4% YoY, the biggest drop since September 2009. This faster-than-expected deceleration suggests "another leg lower" according to TD's Millan Mulraine, as USD strength and renewed energy declines feed through the price channel and reverses a hope-filled mid-year drift higher. This is the 13th month of YoY drops (and 111th of last 12 MoM drops) flashing a recessionary warning.
Hope fades as Import Price drops re-accelerate...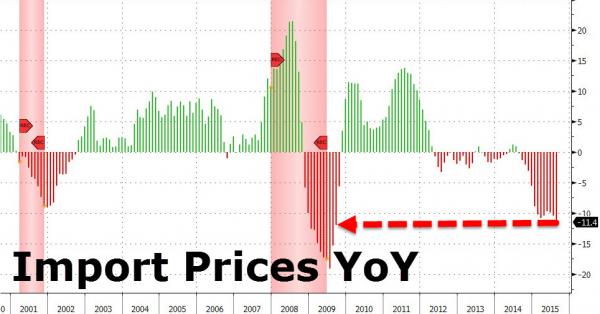 As Mulraine conculdes ominously, "coming at a time when the Fed is contemplating a lift-off in rates, the weak tone of this report should come as a key reminder that the dis-inflationary impulse is re- emerging."
Charts: Bloomberg