Ever since the dividend yield safety proved a mirage, Kinder Morgan (KMI)'s mojo never really came back. The stock is still trading below $20, a level it last saw in November, 2015. Despite this, the stock is trending higher thanks to higher energy prices. Chances are good KMI will trade to $20, not $10, in the future.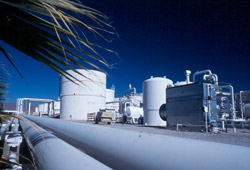 $10 made a more likely scenario for Kinder Morgan when the company had a bias for raising capital and spending more. Since the start of the year, the company indicated it will manage its debt by curbing capex and selling assets if needed.
Its DCF is under 3x and the stock is still paying a dividend. A dividend cut or elimination would hurt the stock, but with energy rebounding this is unlikely.
Watch for KMI's cash flow growing and business improving. In the meantime, expect EBITDA ratio for KMI to stay in the 5 – 5.5x range. Tangible book value is around $16, capex is funded internally and the moat in KMI's infrastructure will give support for the stock at current levels.
Note: KMI is better for income and energy investors compared to BBEP or LINN Energy