On Thursday, July 14th, JPMorgan Chase (JPM) will release its second quarter earnings results before the bell. The company is a Zacks Rank 4 (Hold), and have a Value, Growth, and Momentum score of F.
In our video David will take a look at the current state of JPMorgan Chase, their past earnings announcements, and he'll give us his thoughts on their upcoming earnings call. Furthermore, David will also give us insight on how to play the options market.
JPMorgan Chase in Focus
JPMorgan Chase & Co. is a financial services firm. The Company is engaged in investment banking, financial services for consumers and small businesses, commercial banking, financial transaction processing, asset management and private equity. It offers various investment banking products and services, including advising on corporate strategy and structure, capital-raising in equity and debt markets, risk management, market-making in cash securities and derivative instruments, prime brokerage. It also offers consumer and business, and mortgage banking products and services that include checking and savings accounts, mortgages, home equity and business loans, and investments. JPMorgan Chase & Co. is headquartered in New York.
JPMorgan Chase is expected to report earnings at $1.57 per share according to the Zacks Consensus Estimate. Last quarter they reported earnings at $1.65 per share, beating expectations by $0.14. Their average EPS surprise is 12.74%.
J P Morgan Chase & Co Price, Consensus and EPS Surprise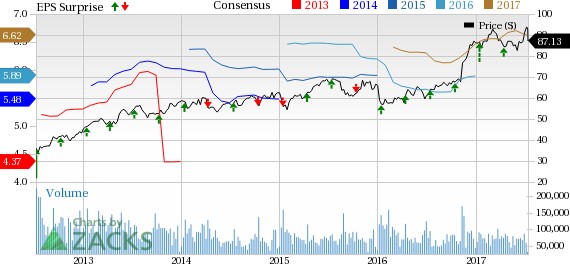 J P Morgan Chase & Co Price, Consensus and EPS Surprise | J P Morgan Chase & Co Quote
Bottom Line
How should investors play JPMorgan Chase ahead of their earnings report? For insights on the best options trades, then tune in at 1:00pm today to see David's thoughts.
More Stock News: 8 Companies Verge on Apple-Like Run
Did you miss Apple's 9X stock explosion after they launched their iPhone in 2007? Now 2017 looks to be a pivotal year to get in on another emerging technology expected to rock the market. Demand could soar from almost nothing to $42 billion by 2025. Reports suggest it could save 10 million lives per decade which could in turn save $200 billion in U.S. healthcare costs.

A bonus Zacks Special Report names this breakthrough and the 8 best stocks to exploit it. Like Apple in 2007, these companies are already strong and coiling for potential mega-gains. Click to see them right now >>
Want the latest recommendations from Zacks Investment Research? Today, you can download 7 Best Stocks for the Next 30 Days.
Click to get this free report
J P Morgan Chase & Co (JPM): Free Stock Analysis Report
To read this article on Zacks.com click here.
Zacks Investment Research