Amkor (AMKR) is a semiconductor company with strong exposure to Apple suppliers as well as android devices. It reported better than expected earnings yesterday (8/2).
 (CNBC)  Shares of Amkor Technology popped about 13 percent on Tuesday as demand for Android phones boosted the semiconductor company's earnings.

The company, which focuses on outsourced chip packaging and testing for companies such as Qualcomm, reported earnings per diluted share of 2 cents on net sales of $917 million, the company said. The company said it expects revenues to grow about 15 percent sequentially in the third quarter, thanks in part to the launch of some mobile devices and growth in automotive and China markets.

Indeed, with the expansion of a Shanghai factory, Amkor expects revenues to double in greater China this year, according to conference call transcript from FactSet.

The Arizona-based company with operations in Asia was dinged in the second quarter by $13 million recovery costs from Japan's earthquakes. But CEO Stephen Kelley credited the accelerated recovery of Amkor's earthquake-damaged Kumamoto factory for hitting above the high end of the company's second-quarter sales guidance, he said on the call.

Going forward, Kelley said Amkor expects its sales from the Apple iPhone ecosystem to grow significantly this year and forecasts market share gains in the high-end Android ecosystem. (CNBC)
AMKR Daily Chart 8/3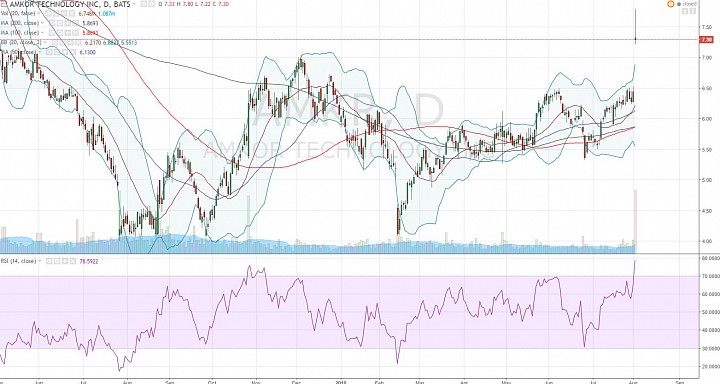 (click to enlarge)
Bullish breakout gets a pullback
- The daily chart shows that AMKR started the 8/2 session with a gap up above the 6.50 resistance pivot. 
- Price traveled to 7.80 but settled at 7.30 after an intra-session pullback 
- Note that price is at a high on the year and has broken above the December 2015 resistance pivot at 7.05.
- The breakout essentially completed a double bottom.
- I think there will be support if price falls back towards 7.00.
- The steepest pullback we should anticipate is back to 6.50 because if AMKR has indeed completed a double bottom, there might be more upside this year. 
- A break below 6.50 on the other hand might challenge the validity of the bullish breakout. A break below 6.00 would put AMKR into bearish mode. 
- For now, the market is officially turning from neutral to bullish.