Following yesterday's surprising Goldman miss, traders were closely watching the results of its closest comp, Morgan Stanley this morning to determine if the Goldman FICC revenue disappointment was systemic or a one-off event. They were pleasantly surprised when MS beat on both the top and bottom line, reporting revenue of $9.75 billion and EPS of $1.00, both above consensus estimates of $9.29 billion and $0.90, although the EPS did include a discrete tax benefit of $112 million.
Profit jumped 70% to $1.93 billion in Q1 2017, from $1.13 billion last year's dismal first quarter. Revenue grew to $9.75 billion from $7.79 billion a year ago, driven mostly by a 96% surge in fixed income sales and trading revenue.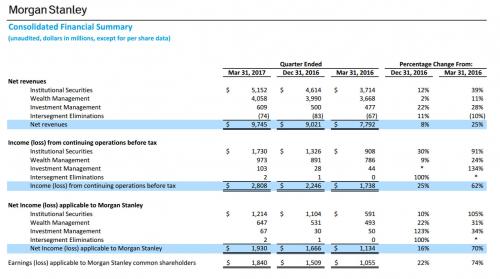 Discussing the result, CEO James Gorman said, "We reported one of our strongest quarters in recent years. All our businesses performed well in improved market conditions. We are confident in our business model and the opportunities ahead, while recognizing that the environment remains uncertain."
Behind the rebound were stronger sales and trading numbers as well as a jump in investment banking revenue:
FICC sales & trading revenue of $1.70b beat est. $1.56b, on "strong performance across all products, regions amid improved market conditions"
Equities sales & trading revenue of $2.00b beat est. $1.92b, on lower results in financing business, driven by higher funding costs, partly offset by strong results in execution services businesses
Investment banking rev. $1.55b, est. $1.18b
Of note, in investment banking, advisory revenue of $496m decreased vs $591m y/y on lower levels of completed M&A activity. This was offset by equity underwriting revenue of $390m vs $160m on higher global market volumes. Fixed income underwriting revenue rose to $531m vs $239m on higher bond, non-investment grade loan fees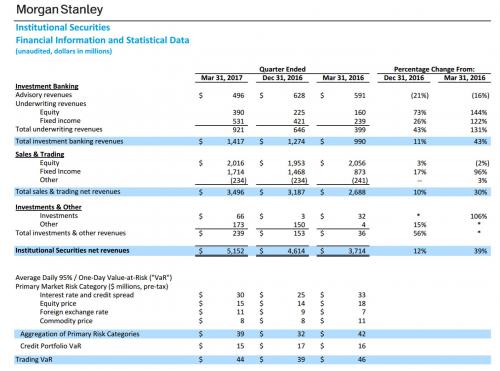 The bank's trading VaR rebounded from 39 as of last quarter to 44 in Q1, just below the 46 VaR reported one year ago.
MS also reported asset management fee revenue of $2.2b vs $2.1b y/y "amid market appreciation, positive flows."
Some other details:
1Q compensation expenses $4.47b, est. $4.20b
1Q non-compensation expenses $2.47b
1Q return on avg. equity 10.7%
1Q wealth management net rev. $4.06b
1Q wealth management pretax profit $973m
1Q wealth management pretax margin 24%
Assets under management $421b
Morgan Stanley also bought back $750m of stock, or approximately 17 million shares.
Having jumped as much as 4.1% in the pre-market, MS shares were over 2% higher, and will likely help soothe nerves after yesterday's Goldman miss which sent the shares of the trading titan plunging by the most in nearly one year.