Small swing again, or can it go higher this time?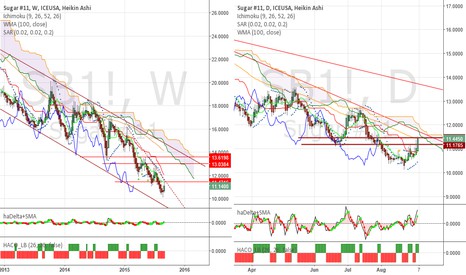 Weekly:
- The trend is still extremely bearish , but the trend channel is more than 40 % wide, so swing trading can be interesting on the long side too from time to time.
- Within major trend there is a steeper inner downtrade too, which stads together with weekly Tenkan Sen and SAR, and is about to be tested soon.
- Upper bearish supports are: 11,50 (Tenkan) / 12,00 (Kijun) / 13-13,60 area (Kumo and major trend channel)
- Heikin Ashi signal is bullish this week, pull back hast started

Daily:
- Ichimoku setup is less bearish now: weak bullish Tenkan/Kijun cross happened below the cloud, and Price crossed above Kijun Sen, future Kumo started to shade over Price
- Heikin Ashi signal is firm bullish , spot price reached upper level of supp/res zone ard 11,45, the question is if it will be able to break through either now, or on second attempt?
- What we have to watch? Everything is possible in commodities space... it may suddenly break through Kumo and march 15 % more, or it canstart to make a similar pattern than during last spike up to Kumo in July (back than at 12,50).
If we see second scenario, than as usual, we will have to check if after some pull back it resumes bearish trend and makes a lower low or not?

For now I only have 0,5 risk unit counter lon from 10,80. I do not use profit target for this position, just a trailing stop.
I will check how it behaves in coming days, and according to price action I will decide about adding to longs in case.