Copper price has been slightly bearish but mostly trading sideways in 2014, evidenced by the triangle we see in the daily chart.
After price fell from 3.422 to 2.87 copper has returned toward to the middle now around 3.15. Note that price is basically trading around the cluster of 200-, 100-, and 50-day simple moving averages (SMAs), also a sign that even within the triangle, price has no direction in the short-term.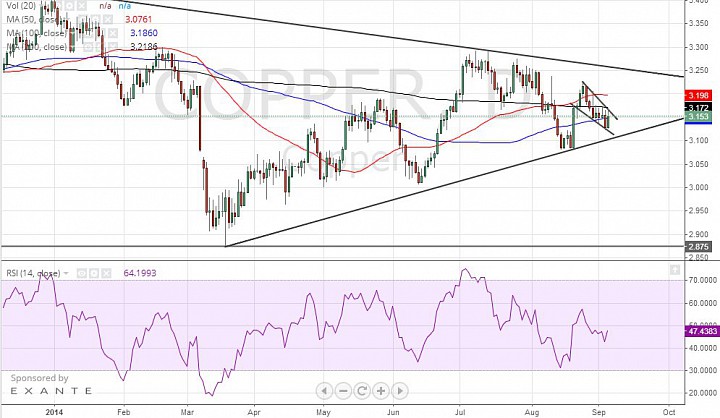 (copper daily chart 9/4)

The ECB cut rates and announced stimulus measures in October, as well as leaving QE on the table. This would in effect increase currency circulation, and thus money supply. Central Bank stimulus thus should have an upward effect on copper.

The 4H chart does show that price rallied just ahead of the ECB event risk, and extended a bit higher after it. However, copper immediately retreated from the 3.17 level, which was reinforced by a falling trendline from last week, and the 50-period SMA in the 4H chart. 
Now, even though the bullish scenario is not successful yet, it should not be put away so quickly. You saw that before the choppy bearish pennant pattern, the rally from about 3.08 to 3.22 was sharp. This suggests that since mid-August, the bullish outlook has been the primary one. 

If price breaks above 3.18, the bullish outlook should gain strength with upside risk toward 3.25, where it will likely test the triangle resistance.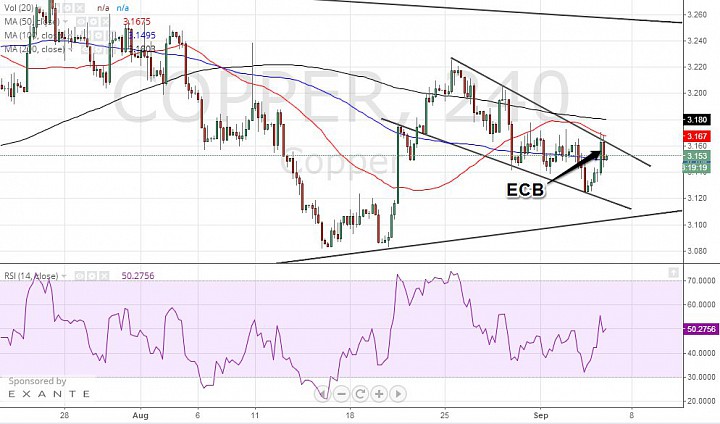 (copper 4H chart 9/4)