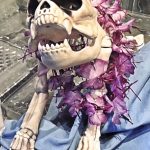 Perhaps you came to the market this morning all dressed up and rearing to go.
By the end of the session, ahead of earnings on many significant stocks (NFLX numero uno), you might have left like this bulldog of the dead.
Last week, the market ended poised for something big and bigger.
The Dow, S&P 500 and the Transportation Sector made new all-time highs.
Instead of a woof though, the market began with a whimper.
Both the Dow and the S&P 500 had quiet trading ranges inside the more broader range we saw Friday.
If you are like me, you are anticipating a dramatic start of a new leg up. Or evidence of a dramatic finish.
Instead, the market gave us skeletal bulldogs.
The Russell 2000, of the four indices, had the best performance.
We wait for IWM to either gap up above 143 and not look back.
Or gap lower...
More