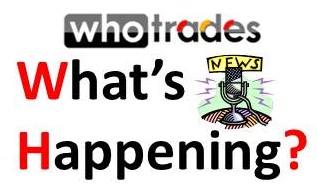 Upcoming S&P 500 Earnings Releases:
Before The Bell:
Ameren Corp.
AES Corp.
Apache Corp. 
EOG Resources, Inc.
International Game Technology
Rockwell Automation
Scripps Networks Interactive, Inc
WPX Energy Inc
After The Bell:
CareFusion Corp.
Walt Disney Company 
NVIDIA Corp. 
Priceline.com 
---
Important Data Releases:
UK:
Bank of England will release
7:00AM EST Asset Purchase Facility, which measures the total value of money the BOE will create and use to purchase assets in the open market, and Official Bank Rate, which measures the interest rate at which banks lend balances held at the BOE to other banks.
Tentative Time MPC Rate Statement, which is released with Official Bank Rate when the rate changes.
Europe:
European Central Bank will release
7:45AM EST Minimum Bid Rate, which measures the interest rate on the main refinancing operations that provide the bulk of liquidity to the banking system.
8:30AM EST ECB Press Conference, which is the primary method the ECB uses to communicate with investors regarding monetary policy.
2:00PM EST ECB President Mario Draghi Speaks at the Economic Forum organized by Die Zeit newspaper, in Hamburg, Germany. As head of the ECB, which controls short term interest rates, he has more influence over the euro's value. Traders examine his public engagements for clues regarding future monetary policy.
US:
8:30AM EST Bureau of Economic Analysis will release Advance GDP q/q, which measures the annualized change in the inflation-adjusted value of all goods and services produced by the economy. Please note that the release date has been delayed by 8 days due to the US government shutdown. And, Department of Labor will release Unemployment Claims, which measures the number of individuals who filed for unemployment insurance for the first time during the past week.
Australia:
7:30PM EST Reserve Bank of Australia will release RBA Monetary Policy Statement, which provides valuable insight into the bank's view of economic conditions and inflation shaping the future of monetary policy and interest rate decisions.
China:
Tentative Time Customs General Administration of China will release Trade Balance, which measures the difference in value between imported and exported goods during the previous month.