GBP/USD
has been in an uptrend since at least July 2013. It moved from the 2013 low of 1.4812 to the current 2014 high of 1.6912, which established last week.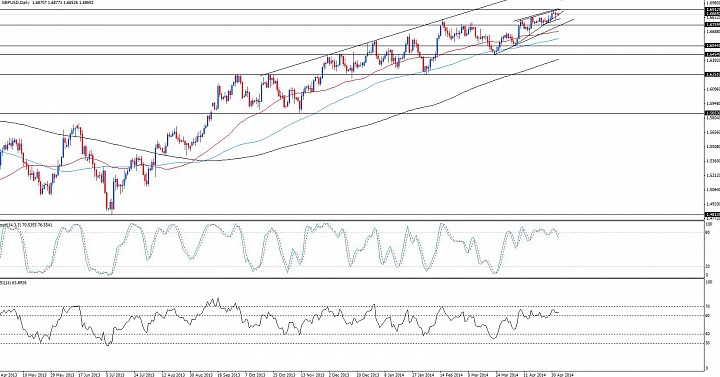 (gbpusd daily  chart, 5/6)
2 things are clear:
1) The trend has been bullish in the daily chart (above) and the 4H chart (below).
2) There is multi-year resistance (2009 high) in the 1.70-1.7040 area.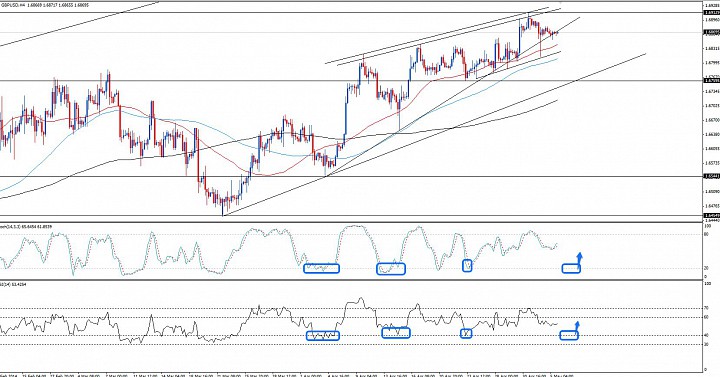 (gbpusd 4h chart, 5/6)
These factors suggests a couple of approaches:
1) Buy-on-Dip: 
Wait for a dip to buy, anticipating an exit or position-size reduction in the 1.70-1.7040 area. If the 4H RSI is back to 40 while the stochastic reading is down to 20, see if the market will find support. If it does, we can anticipate another bullish swing. We you look at the 4H chart, you see this pattern working in April, though the RSI did crack 40 briefly in early April.
2) Sell based on Resistance:
Let's say GBP/USD does end up extending higher, with or without a meaningful correction, but then settles near or in the 1.70-1.7040. Because the biggest downswing during this uptrend is about 400 pips (in Oct. 2013), it may be prudent to limit the bearish outlook to a max of 400 pips. 
This Wednesday,
Yellen's testimony
in front of congress is the key
US-related event risk
for this week.
On Thursday,
BoE's monetary policy statement
will be this week's key
UK-related event risk.