The main action in today's session is coming from the EUR and GBP in the form of the EUR/GBP which we examine below and the spill over effects that has had on the EUR/USD and GBP/USD.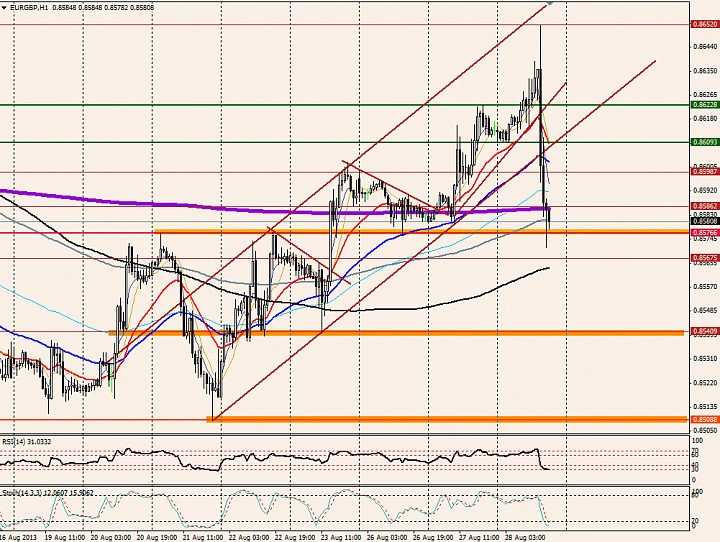 Today was important because we did have a macro catalyst in the form of a speech by the new BOC Governor Carney in which he laid out his requirements for BOE "forward guidance' - in which he stated that the 7% unemployment rate threshold does not mean automatically higher interest rates, but that the BOE would reassess conditions at that point.

He also held out the prospect of more stimulus if the recovery was to falter. Both of those would tend to weigh on the GBP, which happened initially, but after a run-up to 0.8650, the EUR/GBP pair fell  back down quite strongly, as Carney did present a picture of the economy growing modestly, which countered the initial dovish reaction.

The pair's decent a) broke its upward channel support trendline and b) pushed through the 800-EMA (in thick purple) which roughly corresponds to the 200-EMA on the 4H chart.

Those are signs of bearish momentum and if we are able to break below the next key level of support at 0.8575 and hold below there, downside targets open up to 0.8540 and 0.8510 in the short term, and the daily picture shows further falls are possible if that latter support gives way.
- Nick