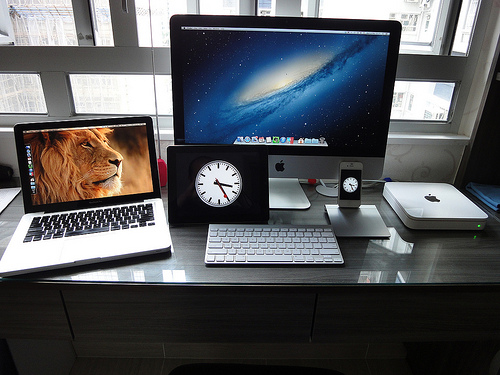 Apple (NASDAQ: AAPL) will release a brand new, higher resolution iMac soon, according to Apple Insider, titled "iMac 8k." The new desktop release was featured in a press release from partner LG, however, Apple has not yet made an announcement about the product.
The tech giant's previous iMac model, the iMac 5k, had a 22 inch screen with a lower resolution than is expected of the new model, Apple Insider reported. The 8k reportedly has a 7,680 x 4,230 resolution.
A release date has not been set.
Apple Insider commenter Steffen Jobbs said:
Is there actually any demand at all for such high resolutions? One article says AppleTV won't do 4K because there's little demand for it and now this article says there will be an 8K iMac. No demand for 4K but some demand for 8K. Providing this rumor is true it seems like Apple is trying to start a spec war making it harder for rivals to compete. I'm not wasting my time second-guessing Apple for whatever they decide to do. Apple must have its own reasons to believe consumers have some interest in such high-resolution displays. I personally don't need such high resolutions because my older eyes can't fully take advantage of them. To me, it would seem to be a huge waste of processing power trying to drive all those pixels when that power could be used for getting other work done slightly faster. Apple must know what's necessary to drive computer sales so I must be slipping out of the computer needs loop. I'm quite happy with regular HD but maybe that's not enough for most consumers. I still have an older 24" iMac and it's more than satisfactory for my use.