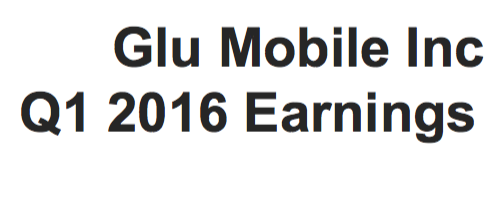 Glu Mobile (GLUU) reported Q1 results and the stock is down 15% in after hours. Clearly the algos are at work or the investor base is clueless based on the expected Q1 beat and weak Q2 guidance. 
Q1 EPS of -$0.03 beat by $0.02
Q1 revenues of $54 million beat by $5.8 million
Q2 revenue guidance of $46-$49 below estimates of $59.7 million
The only reason the stock is down is due to unreasonable expectations that Q2 revenues would exceed the Q1 results. With the weakness in the celebrity category, the estimates for Q2 should've be inline with the $48.2 million expectations for Q1. The analyst estimates were clearly not updated and out of touch with reality.
The stock reaction in after hours is extremely over done. The fact that Glu Mobile easily beat Q1 revenue estimates is a testiment to the revenue stream that the company has built with the numerous games on the market. 
With cash of $160 million and a market cap of $300 million, Glu Mobile has an enterprise value below $150 million. Use this dip as another buying opportunity as the market completely ignores the value. The stock quickly becomes a target of Tencent (TCEHY) at this level. 
Disclosure: Long GLUU