So much for Trump's Senatorial "straw poll" who should be the next Fed chair (which as a reminder, was reportedly won by John Taylor as Janet Yellen's replacement). Moments ago, Bloomberg reported, citing two people familiar with the matter, that of the two finalists, whom we already knew were John Taylor and Jerome "Jay" Powell, Trump is reportedly leaning to Powell as next Fed chair.
Perhaps Trumps was trying to find who the Senate wants in, just to decide the opposite. Or more likely Trump was just tapped on the shoulder by Mnuchin who as we know is a big fan of "establishment" Fed chairs, and who made it clear that only Powell can be the next head of the US money printer.
Of course, this is just another trial balloon, just like the bevy of Politico reports on the matter, because as Bloomberg's sources cautioned, the "decision isn't yet final" and added the usual disclaimer that Trump could change his mind at any time.
For now, however, with the threat of the uber-hawkish, at least according to conesnsus, John Taylor removed, both the dollar...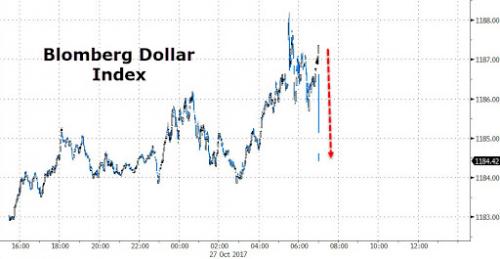 ... and yields are sliding.