Following Manufacturing PMI's weakness and ADP's Manufacturing employment weakness (and six regional Fed surveys' weakness), ISM printed 50.2 (the 3rd miss in a row, the 9th miss in the past 11 months, and lowest since May 2013). Under the surface was a disaster with New Orders collapsing (unadjusted are weakest since before 2013) with just 22% saying New Orders are better (the lowest since August 2012), and greater than respondents saying "Worse" for the first time since December 2012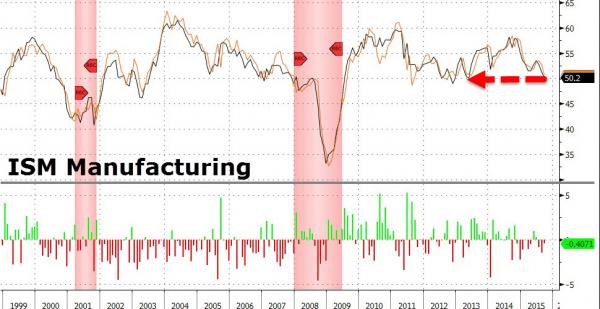 As New Orders completely collapse...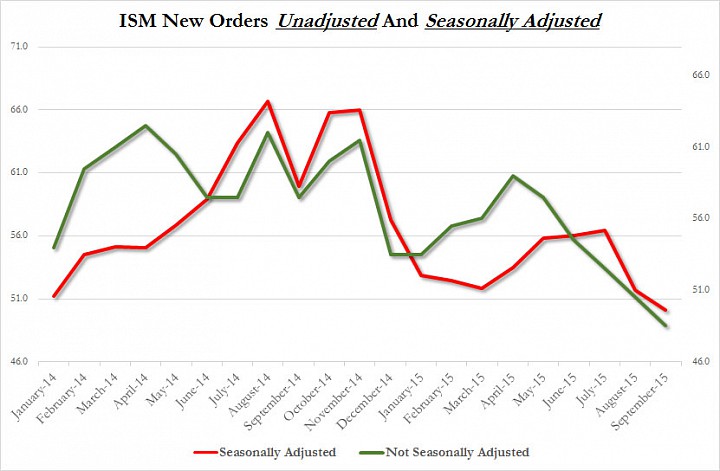 Virtually everything else tumbled too, with Production, Employment, Deliveries, Prices, Backlogs and Imports all dropping: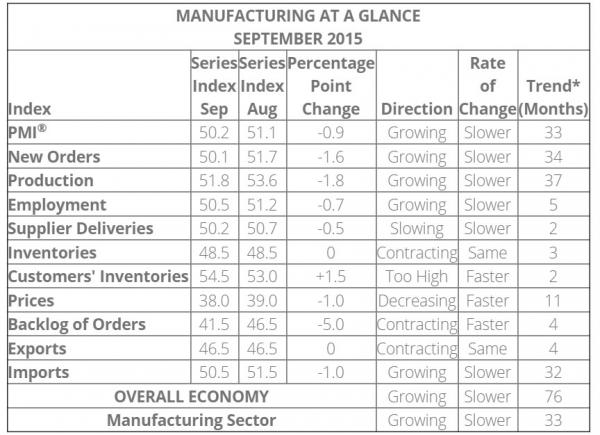 This is what the respondents said:
"Revenues and profits in our industry continue to [be] impacted by low crude and gas prices." (Petroleum & Coal Products)
"North American business steady. International business trending bearish." (Chemical Products)
"High value of dollar is affecting global procurement pricing." (Computer & Electronic Products)
"Concerns about China downturn and its effect on our consumer confidence." (Fabricated Metal Products)
"Overall business is slowing. Consumers are nervous. Not sure what is coming next." (Transportation Equipment)
"Business is picking up." (Furniture & Related Products)
"The orders from customers seem to be slowing a bit from the first part of the year. We have promises but not actual Purchase Order numbers." (Nonmetallic Mineral Products)
"Sales revenue and profitability improving slowly. Getting close to 2015 budget/sales plan. Not seeing consistent trends up or down." (Electrical Equipment, Appliances & Components)
"Continue to feel impact of oil and gas market slowdown. Aerospace demand has also been slower than expected. Consumer Electronics not robust." (Primary Metals)
"Concern for AI [Avian Influenza] for poultry when bird migration begins." (Food, Beverage & Tobacco Products)
With 6 of 6 regional Fed Surveys all recessionary...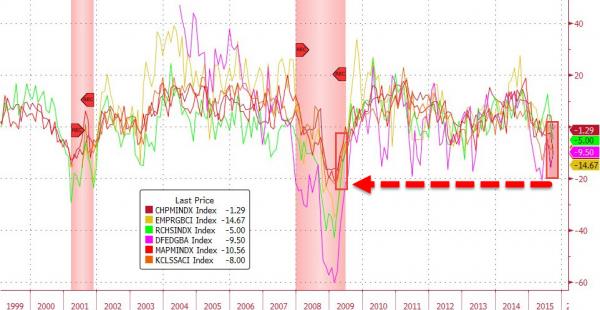 And according to ADP, for the first time this decade, the US hasn't created a single manufacturing job for the entire year. In fact, it has lost some 6,600 jobs.
Charts: Bloomberg