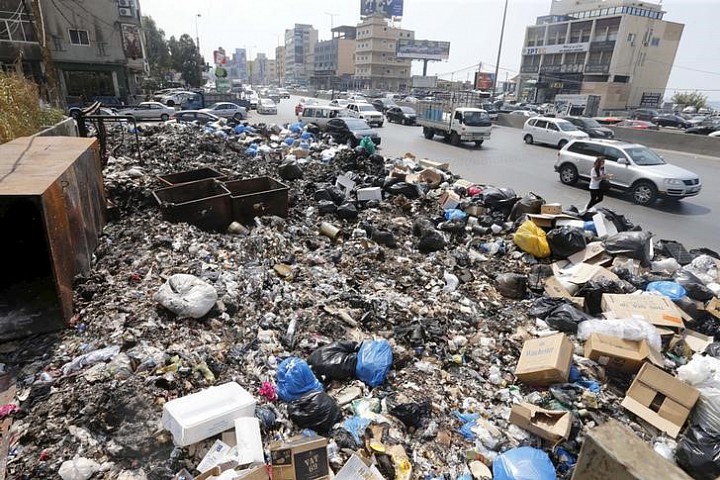 BEIRUT (Reuters) - The overpowering stench of the rubbish piling up in Lebanon's streets has become a potent symbol of the political rot protesters blame not only for the garbage crisis but a gridlocked sectarian power system unable to meet citizens' most basic needs, from electricity to water, health to education.
As mounds of rubbish steam in the heat and humidity of the Lebanese summer, the broad-based movement of civic protest in the streets has taken aim at politicians with its campaign slogan: "You Stink".
The government's failure to deal with a breakdown in rubbish disposal it knew was coming has become a metaphor for the rot at the heart of a state that, beyond military and security functions, has all but ceased to function. The last thing a Middle East in meltdown needs is for Lebanon, barely recovered from its own 15-year civil war, to become another failed state.
For the "You Stink" crowd, the rubbish in the streets is the last straw. Not just most Lebanese but even some politicians agree the system is corrupt and broken.
Tammam Salam, the Sunni Muslim prime minister, said that serious as it, the uncollected waste is merely a manifestation of the "political garbage" crisis afflicting Lebanon.
"What we're concerned about is the continued steady erosion of the institutions, which is a fact, that's why people take to the streets, there is a lot of inefficiency, there is no reform, and the government is not able to execute whatever decision it takes," said one Western diplomat.
"It's a pity to see this erosion at a time when the region is in crisis, when you have nothing but failing states around, these basic issues can actually be quite toxic."
If anything, the garbage crisis crystallizes how those in the ruling class have hollowed and weakened state institutions in favor of parallel networks of firms they set up or benefited from to provide major services.
The crisis began when the government did not extend the contract of the private company in charge of rubbish collection just as Lebanon's main landfill went beyond its capacity and could no longer process more waste. The company, Sukleen, is associated in Lebanon with Sunni leader Saad al-Hariri.
Two months on, the government has still failed to replace Sukleen. Six private firms, also connected to the ruling elite, failed to win the contract to remove rubbish because the fees they quoted turned out to be much higher than Sukleen.
In the eyes of the protesters, the mess is the result of corruption and incompetence at the heart of government, where lucrative contracts are routinely fought over by firms allied to...
More