We recently looked at DDD as it slid, continuing its bearish correction mode. We assumed that the market has turned bullish since 2016, and the bullish breakout in May 2017 continued this bullish mode. In this scenario, we were anticipating an ABC correction and anticipating support in the 17-18 area.
DDD Daily Chart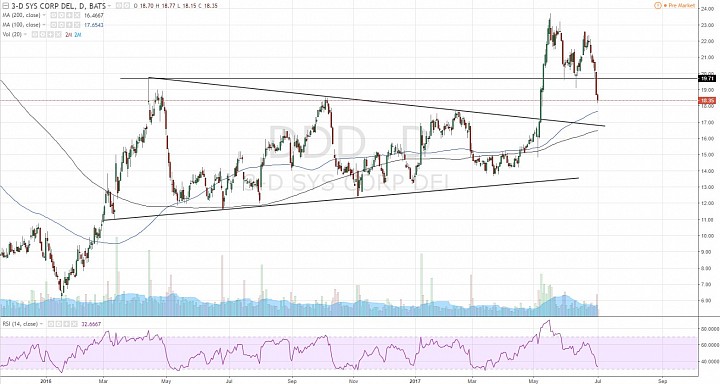 (click to enlarge)

Anticipating Support:
- The bearish correction is still going, but we should be alert if it enters the 17-18 area.
- Here, we have the 100-day simple moving average (SMA), and the resistance from February, which could turn into support.
- Just below 17, price would also challenge the previously broken triangle resistance as support, along with the 200-day simple moving average.
- Furthermore, the RSI is approaching 30. If we see it push below 30 a couple of times, especially if it forms a bullish divergence against price, we should have more reason to anticipate a rebound.
Reward to Risk:
- Let's say price starts to stall, and we set up a buy at 17.50, and a stop at 15.50.
- The first conservative target could be 19.70, a support/resistance pivot area. If the market is not done with correction, this would be a good place to get out after a small rebound.
- Another conservative target would be around 21, which would also be part of the bearish correction continuation scenario.
- I think the aggressive outlook could be 26.30 or just 26. This is a previous support pivot from a multi-month consolidation.
- Now, the conservative target at 19.70 give us a reward to risk just above 1:1.
- The 21 target gives a reward to risk of 1.75:1.
- The aggressive bullish continuation target at 26 gives a reward to risk of 4.25:1.
The average R:R in this case is around 2.3:1.