High Grade Bond Volume from Yankee Issuers Surges Last Week
Investment-grade corporate bonds
Corporate investment-grade bonds are debt instruments that are rated BBB- and above by Standard & Poor's. Other rating agencies have their own scale of rating a corporate bond as investment grade. Treasuries are also counted as investment-grade bonds.
Mutual funds like the Vanguard Total Bond Market Index Inv (VBMFX) and the PIMCO Total Return A (PTTAX) enable investors to invest in corporate investment-grade bonds. These mutual funds invest into investment-grade corporate bonds of companies like Oracle (ORCL), Nike (NKE), and General Electric (GE). They also provide exposure to Treasuries.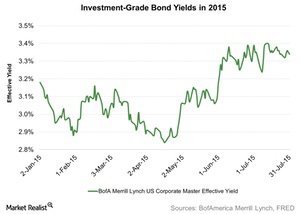 Yield movement in 2015 so far
The first four months of 2015 had seen yields on investment-grade corporate bonds...
More