It used to be enough for a luxury fashion company to just make clothes. Now it's expected to provide an entire experience, in-store and beyond.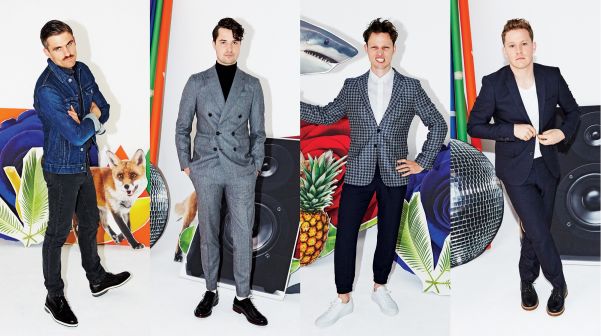 From left: Mike Evans, Thom Rhoades, Tom Burke, Lawrence Diamond | Source: Bloomberg
PARIS, France — Something's wrong with the succulent. A small branch broke, and now it's leaning into the window of the newest Maison Kitsuné store, on Boulevard des Filles du Calvaire in the gentrifying Haut Marais of Paris. Gildas Loaëc, co-founder of the brand, first noticed it on Instagram, as it bothered him that 177,000 followers might have caught the slight imperfection. So here he is, crouching down and adjusting the bough. Plant surgery concluded, he starts speaking French with his shopkeepers, trying to determine when, and how, everything went wrong.
It used to be enough for a luxury fashion company to just make clothes. Now it's expected to provide an entire experience, in-store and beyond. Prada opened a private art space in Milan last year and acquired a majority stake in an historic Italian bakery; Louis Vuitton built a sprawling Frank Gehry museum on the outskirts of Paris in 2014; Ermenegildo Zegna has collaborated with Maserati and other makers of man-toys. Maison Kitsuné's version of this idea is less flashy, though no less diversified. Loaëc and his partner, Masaya Kuroki, want to surround their clothes with perfectly pulled espresso, the indie-poppiest new music compilations, and even the right kinds of hip ceramics and (hopefully healthy) plants.
This idea first came about in 2002, when the two became obsessed with Tokyo's retail scene. "At that time," says Loaëc, "you could find stores in Japan where they had furniture, a cafe, music, clothes —what we now call a concept store. That wasn't happening anywhere else."
The friends aimed to do the same thing and first formed an indie record label, which released albums, sold some concert merchandise, and made mix CDs featuring up-and-coming artists such as Hot Chip, Bloc Party, and Yelle, all of which grew into major-label stars. They also threw parties to promote them. "But we didn't just want to be a music label doing T-shirts, or a fashion brand doing a compilation trying to be cool," says Kuroki, who was born in Tokyo and moved to Paris as a child.
There's this whole idea that the Japanese love Paris a lot.
In 2005, Loaëc and Kuroki started making real clothes, versions of which they still produce today. Most of these garments are preppy — crewneck sweaters, oxford-cloth dress shirts, lean chinos, and pleated schoolgirl skirts. A popular men's dress shirt looks classic, until you get closer and see it's haphazardly printed with the word "Paris" at least 100 times. One women's sweater has a giant intarsia fox across its chest: Kitsune is the Japanese word for fox. They added an accent aigu on the "e" and the word "Maison" because they believed that sounding French would help international sales. The line took off in Japan, "because of sizing originally," Loaëc says (the clothes run small). "Plus, there's this whole idea that the Japanese love Paris a lot." He's not generalizing —Japanese tourists visit the City of Light more than those from any other nation. It also didn't hurt that Kuroki is Japanese.
Ten years later, the business has grown to 80 employees and last year generated $15.9 million in revenue. Eighty percent of that comes from clothing, with the rest from the music business, which has recently featured Spotify darlings including the Brooklyn rock band Mothxr and Kilo Kish, a New York rapper.
There are eight Maison Kitsuné boutiques in New York, Tokyo, Hong Kong, and Paris, where Loaëc is currently Uber-ing around, visiting several stores in the city. At each one, he finds something wrong. In the new Marais cafe, there are too many unopened packages near the door. At another store, in Pigalle, staples are falling from some fuzzy stools. He gleefully points out these errors to staff, and then we're back to zooming around Paris, where we can't stop bumping into people he knows.
At one point, Loaëc yells good-naturedly at a squirrelly Frenchman who's crossing in front of the car. Afterward, he reveals it was "Mr. Golden Helmet," his English nickname for Guy-Manuel de Homem-Christo, one of two members of the French techno group Daft Punk. In the 1990s, Loaëc owned a record store in Paris, where he met the duo. Eventually he closed the shop and started managing them. Loaëc and Kuroki, an architect at the time, would tag along on Daft Punk tours, often to Japan, where they would moonlight as DJs. By the early 2000s — a decade or so before the success of Get Lucky — Loaëc left the band to move to Los Angeles, and later back to Paris to start his brand.
Kitsuné has since released countless albums and built successful boutiques, but its own e-commerce store remains the profit center. Its real business plan is to flood the Internet: There are Kitsuné music videos on YouTube, new songs uploaded a few times weekly on Spotify, and photos of the clothing collections and boutiques on Instagram. All of it serves as branding in place of traditional advertising, driving fans to the company's website. It's also an entry point for people — teenagers, specifically— who may not yet be able to afford a $500 minidress, but might buy a $20 CD or even look at some photos for free on Tumblr.
"Most brands are spending so much money to try to get young or, like Chanel, talking to people who are over 65," Loaëc says. "With the Internet, we are talking very naturally to cool kids."
Loaëc says clients at the women's boutique, on Rue Madame in Paris, range in age from 15 to 65. Over the summer, the French actress Catherine Deneuve and tennis star Maria Sharapova came in to shop. Jay Z and Usher are fans, too. In New York, where one of the Kitsuné stores is built into the lobby of the swank Nomad Hotel, "we all get these rich people waiting to get into the restaurant and just passing by the store," Loaëc says. "You see women who are buying stuff, just shoving it in their bag — they don't try it on — and I'm sure it's all going to end up in a warehouse somewhere."
To cater to those customers, the Kitsuné team has been working on adding "more drama, and more design, and more fashion experience" to round out the simpler core collection. Last year the company held its first fashion presentation, in New York. Then Loaëc and Kuroki decided the $300,000 expense probably isn't worth it in an era when they can shoot photographs themselves for their 700,000 followers on various social networks.
With the Internet, we are talking very naturally to cool kids.
In Japanese lore, a fox is revered for its shape-shifting ability. So each of Kitsuné's boutiques has unique décor, with exclusive product to match. Each branch of the brand is likewise kept separate—only rarely do Kitsuné musicians wear Kitsuné clothes. (Citizens!, one band on the current roster, has instead starred in campaigns for Saint Laurent and Mulberry.) Most of the musicians now release one single with the label before moving on to a huge partner like Sony.
There's talk of opening a cafe in Le Bon Marche, the Paris department store, and perhaps a Kitsuné-branded beach club in Bali. This fall the company will start selling handbags and dress shoes. Another project involves wooing South Korea, which Loaëc thinks could be the next Japan. He wants to open a store there and sign a K-pop artist as soon as possible. The fall collection is inspired by Korean culture; there are hats and T-shirts that say K.I.M., a reference to a fictional Kitsuné Institute of Music.
Kuroki, meanwhile, recently moved to Japan. He thinks being near his best customers will elevate his design work. Like Burberry with its trenches, or Gucci with its horse bit loafers, or even Nike with its gym shorts, he wants to design "one product that's just instantly identifiable," he says. "Without, you know, it saying Kitsuné all over it." If he succeeds, the two partners will be closer to their dream of becoming the luxury lifestyle brand for a younger, increasingly wealthy generation. Then, Loaëc hints, it's time to make baby clothes.
MEET THE ARTISTS
Citizens!
Since forming in 2010, the four twentysomething Brits — Tom Burke on vocals, Thom Rhoades on guitar, Martyn Richmond on bass, and Lawrence Diamond on keyboards—have earned acclaim for upbeat, pop-rock hits in the style of Franz Ferdinand and the Killers. After dropping Here We Are, their first full-length album, in 2012, the group holed up in Kitsuné's Paris studio to create their second, more mainstream LP, European Soul, released in April. The band recorded it during Europe's economic crisis and say their hope was to get people dancing through dark times. Over the summer, they brought that idea across Europe as the opener for popular British singer Mika.
Kilo Kish
Known for her girlish take on hip-hop and rap, Kish (born Lakisha Kimberly Robinson) began recording on a whim in 2012 after her two roommates built a studio in their New York apartment. She quickly released two EPs, though real attention didn't come her way until 2013, when she created K+, a free mixtape featuring more established collaborators such as Childish Gambino and A$AP Ferg. Kish, 25, then toured the U.S. and recorded Across, an album about the road trip. Last summer she designed a collection for Kitsuné of striped, summery, very French tees.
Beau
Close friends Heather Golden and Emma Jenney — both from Manhattan, both 20, both art school dropouts — became a music duo when Golden picked up a guitar at a Paris apartment party and caught the ear of Kitsuné's Loaëc. He set them up with producer Al O'Connell, a collaborator of Mark Ronson's, who helped the act develop their sound. In songs such as Soar Across the Sea and the sadder Lost Soul, they created music that borrows from the '60s and Southern blues. They've written and recorded a debut LP, set to be released in 2016.
Pyramid
Throughout the late aughts, Pyramid thrived in the Parisian electro scene that made DJs like Justice and Metronomy famous. He first worked with Kitsuné in 2011, recording remixes of under-the-radar songs that wound up more popular than the originals. In June he put out Night Tales, an EP of beat-heavy, mostly lyric-free jams that sounds like a more mature version of today's popular EDM pop. Pyramid, 25, isn't big yet in the States, but he's one of the most in-demand acts when Kitsuné does popular club nights in Tokyo and other Japanese cities.
Mothxr
Fronted by vocalist Penn Badgley, a former teen actor on the prime-time soap Gossip Girl, the group came together in downtown New York with the help of producer/bassist Jimmy Giannopolous, a neighborhood friend and skateboarding pal of Badgley's. The two found a bassist (Darren Will) and a guitarist (Simon Oscroft) and recorded five songs in five days. Their breakout hit was Easy, a grunge-rock anthem. Posted anonymously in 2014 on the music site SoundCloud, it scored hundreds of thousands of plays and led to an East Coast tour in summer 2014 and a sold-out show in London that September. The band is recording a full album to be released this fall. They changed the spelling of their band name after noticing "Mother Easy" returned a lot of weird Google results.
By Kurt Soller; editor: Emma Rosenblum.