Cvent provides a cloud-based event management platform with solutions for events and meetings planners and hotels / restaurants etc. The company performed really weill over the last several years, Cvent has had positive EBITDA since 2011, however EBITDA was growing and dropping down. 
The company's share price increased 33% over the last year and I'd like to check if there is any upside potential.
The company has two solutions: subscription for event planners and marketing tool for hotel chains. Therefore the key driver of the revenue growth is the number of customers: event planners and hotel chains. 
Company's ARPA for the subscription tool increased from $9.5k in 2012 to $12.9k un 2012 and I suppose it will continue to grow and achieve $17.2k in 2017. Cvent's ARPA for the marketing platform is around $6.7k (3-y CAGR is 9%), however the company increased this metric by 14% in 2014. I assume that Cvent will be able to increase this ARPA as well.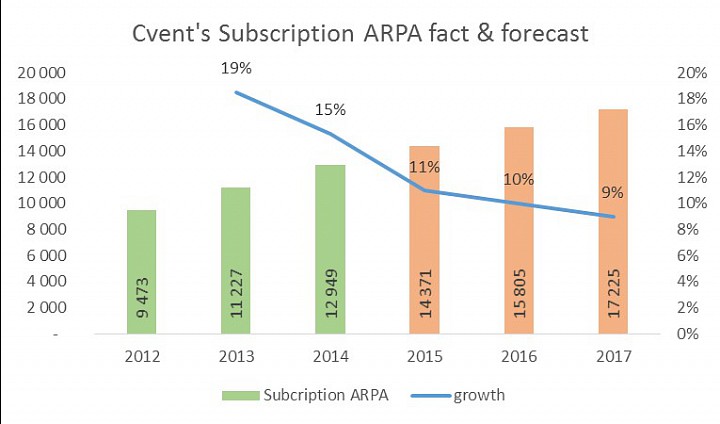 Another key operating metric that I analyze is customer acquisition cost. The Cvent's customer acquisition cost is growing, howere this growth is less than the revenue growth rate. Therefore the company has a stable marketing expenses as a percentage of revenue at the level of 43%. I assume that the company will keep this line at the same level as a percentage of revenue.
According to the key business assumptions I got the following results in terms of revenue: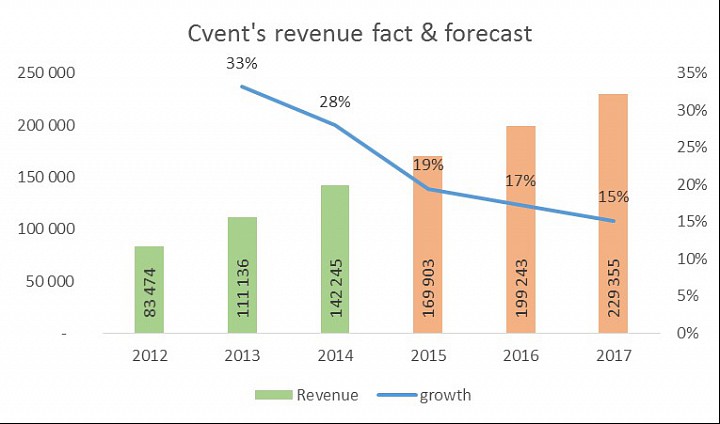 I think that the company has a good potential of growing over the next several years.