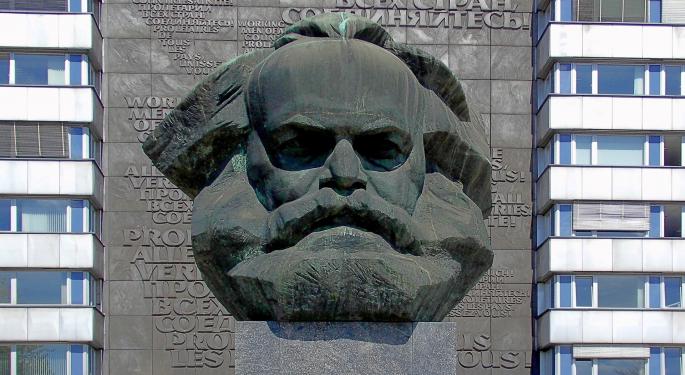 Investors often weigh the pros and cons of active fund management and passive fund management. While they usually approach the issue in terms of which style will generate the highest returns, Bernstein analyst Inigo Fraser-Jenkins argues that active investment is a positive driving social force in the global economy.
The rise of passive investment has produced a major reduction in the costs of investing, and Fraser-Jenkins notes that policymakers seem to see it as a benign phenomenon. He believes that the transition to passive management is actually coming at a high cost.
"A supposedly capitalist economy where the only investment is passive is worse than either a centrally planned economy or an economy with active market led capital management," he explains.
Related Link: Trade Ideas Is Bringing Artificial Intelligence To Robo-Advising
He even suggests that a government-planned investment program would be better than allowing passive strategies to completely take over the market.
Fraser-Jenkins argues that active management plays a critical role in providing liquidity to investors. He cites a 2016 paper by Bolla, Kohnler and Wittig that found that the rise of passive investing has increased correlation and risk within individual markets and across different markets. Among the paper's findings is that a further one-third increase in passive investing would up correlation among U.S. stocks by 14 percent. This correlation makes it increasingly difficult to create a diversified portfolio of investments.
At this point at least, Fraser-Jenkins sees no signs that the shift to passive investment is slowing down or that the balance between active and passive investments will mean-revert on its own.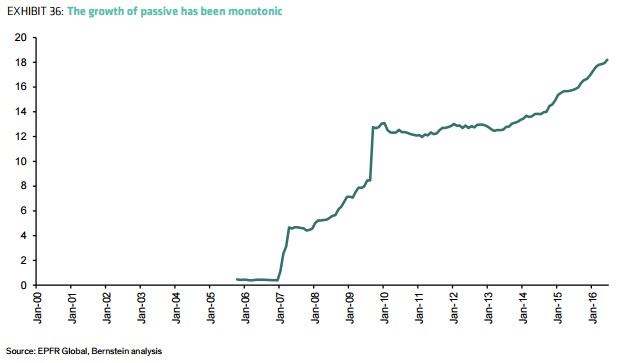 One popular theory is that the rise of passive investment will ultimately result in what Fraser-Jenkins calls an "active nirvana," in which passive investment has created major investment opportunities for active managers. However, Fraser-Jenkins notes that it would be difficult to recognize such an opportunity in real-time.
Instead, he suggests that it may be time for policy-makers to start considering a more proactive approach.
"Given the role of policymakers is to consider the broader utilitarian role of an activity and the difficulty of any individual market participant in changing the status quo there could be a role for policy in making sure that active management does not shrink in a way that would be inimical to society at large," Fraser-Jenkins concludes.
Passive investments now account for 35 percent of assets under management (AUM) globally and 40 percent of fund AUM in the U.S.
© 2016 Benzinga.com. Benzinga does not provide investment advice. All rights reserved.
Source