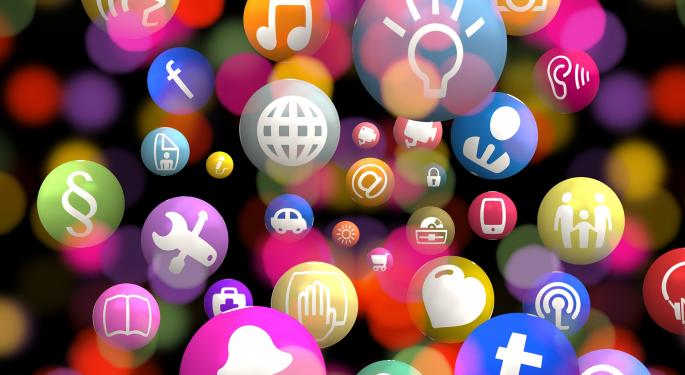 "[W]e are downgrading Yahoo from Buy to Hold at this time despite a stable price target ($41) as our target is only 9 percent above current trading levels," analyst Brian Wieser wrote in a note.
Wieser said the market share of Yahoo, which peaked at around 20 percent share of global digital advertising between 2004 and 2006, has around 3 percent share and falling.
"Potential buyers of the business undoubtedly have plans that would attempt to reverse this decline, although we think that bids will reflect more conservative (and realistic) expectations. Our model continues to place a value on the core business at $3.5bn excluding any cash," Wieser highlighted.
On the other hand, Wieser has increased the price target of Alphabet to $1000 from $970 and Facebook to $166 from $157. The revised target price implies a potential upside of 39 percent for Alphabet and 41.5 percent for Facebook.
"Facebook and Google's dominance will continue, providing much more growth to come," Wieser continued.
Excluding China — where Facebook and Google catch little revenue — "during 2015 global digital advertising grew by $18 billion on new estimates from Magna Global, or by $17 billion on similarly recent estimates from Zenith Optimedia (both in constant currency terms). At the same time, the analyst estimate Facebook and Google grew their constant currency advertising revenues by $18 billion."
In other words, the two companies generated growth equal to 100 percent or more of global digital advertising outside of China last year.
"We see no reason for this trend to change soon, as both Facebook and Google continue to innovate their ad product offerings and expand the 'share of wallet' they each capture from advertisers," Wieser elaborated.
Related Link: Even If The Market's Flight To Safety Ends, Barclays Still Recommends Sprint And T-Mobile
The analyst noted that Facebook has additional upside from improved monetization at Instagram and the establishment of commercial models at WhatsApp and Messenger, while Google would witness rapid growth from its entry into marketing technology.
"Overall, our expectations for Facebook equate to a share of global digital advertising ex-China that rises from 18 percent to 28 percent between 2016 and 2020. Our growth expectations for Google equate to an ex-China digital share — on a gross basis — that rises from 54 percent in 2015 to 59 percent in 2020," Wieser added.
At Time Of Writing...
Yahoo was flat on the day at $37.76.
Alphabet (GOOG) was up 0.97 percent at $712.44, while Alphabet (GOOGL) was up 1.00 percent at $724.96.
Facebook was up 1.04 percent at $118.46.
Did you like this article? Could it have been improved? Please email feedback@benzinga.com to let us know!
Date
Firm
Action
From
To
Jun 2016
Apr 2016
Axiom
Maintains
Buy
Apr 2016
JP Morgan
Maintains
Overweight
© 2016 Benzinga.com. Benzinga does not provide investment advice. All rights reserved.