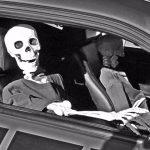 Charles Dow 1851-1902, co-founder of Dow Jones & Co. and founder of the Wall Street Journal, had a theory.
Dow, the real Granddad of technical analysis, instituted the DJIA (Dow Jones Industrial Average) in 1896. That tracked the closing prices of 12 manufacturing companies.
Then, in 1897, Dow created an average for Transportation stocks.
Dow believed that if the industrial and railroad averages moved in the same direction, the economy was shifting in that direction.
Fast forward to the present.
What might he say now that we have the DJIA on new all-time highs while the Transportation Sector ETF (IYT) is down about 7% from its all-time highs?
Should we believe that the blue chips are accurately predicting more bullish economic indicators coming soon to a theater near you?
Should we believe Transportation is more accurately predicting that negative economic indicators will prevail?
Should we simply accept the disparity as an aberration?
Or, should we exercise caution before continuing to load up long or short?
Dow never really got to fully explain his theories before his death. Therefore, much...
More