On Friday, July 7, Sony Pictures (SNE) will release "Spider-Man: Homecoming" into 4,348 theaters across North America. Sony Corp. hopes the film will revive the valuable property, while the industry looks to buoy what has been a disappointing summer at the box office to date.
"Homecoming" represents Sony's second attempt at rebooting the franchise, after the Andrew Garfield-led "Amazing Spider-Man" films ($1.5 billion combined worldwide gross) failed to live up to the heights of the original "Spider-Man" trilogy directed by Sam Raimi and starring Tobey Maguire, which brought in nearly $2.5 billion worldwide. After "The Amazing Spider-Man 2" underwhelmed with $709 million worldwide in 2014, the studio went back to the drawing board to figure out how to make its most lucrative property a juggernaut once more.
The answer was to fold Spider-Man into the most popular superhero franchise at the moment, Walt Disney Co.'s (DIS) Marvel Cinematic Universe (MCU). Disney and Sony struck a deal in 2015 wherein Kevin Feige, president of Disney's Marvel Studios, would oversee the creative direction of the character while Sony would finance the new "Spider-Man" movies ("Homecoming" cost $175 million before marketing). Sony will retain all the box office revenue from the new "Spider-Man" films, while Disney gets to keep the money from merchandising as well as have Spider-Man interact with other Marvel characters within the MCU.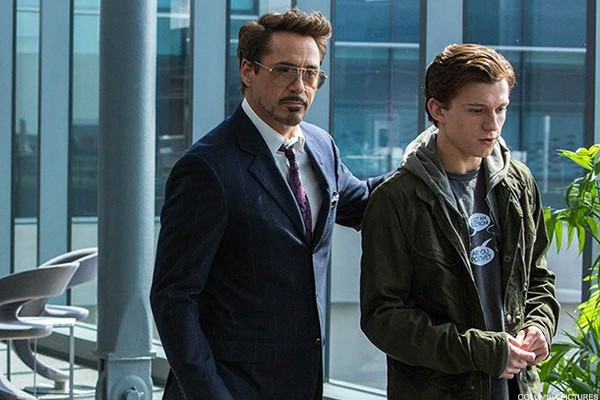 Robert Downey Jr.'s Iron Man, for example, plays a supporting role in "Spider-Man: Homecoming" and has been featured prominently in the marketing. Tom Holland, the new actor portraying Spider-Man, already has won over a large number of Marvel fans with his appearance in last year's "Captain America: Civil War." Although his role in that film did not amount to much more than a glorified cameo, Holland's performance was one of the most widely praised aspects of "Civil War."
As the inclusion of Spider-Man helped the Marvel film gross $1.15 billion at the worldwide box office, Sony is hoping Iron Man's appearance will help "Homecoming" become a global blockbuster. It's a smart move -- no film featuring Iron Man has ever opened to less than $98.6 million at the box office, as Robert Downey Jr.'s Tony Stark is arguably the most popular character in the MCU.
The synergy between the two properties will be on further display next year, as Spider-Man is reportedly a key...
More