DX: Dollar index long term uptrend continues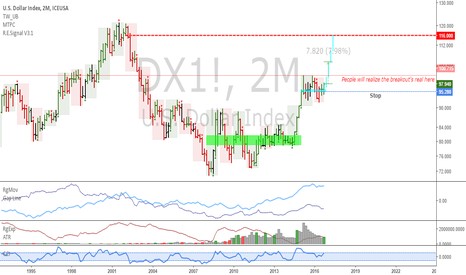 Odds are that we're seeing the resumption of the long term advance suggested by the 6-month and 2-month charts in the dollar. Right now, it's pending confirmation, which will materialize once price hits the 99,58 mark here.
There are to logical targets for this rally, one 7.82 points higher, and the other at 116 give or take.

If price manages to break above 116, it can go considerably higher, but it would take a massive fundamental catalyst to fuel this type of advance. I'm of the idea that we will get an interest rate hike in December, which could possibly manage to push the dollar high enough to trigger this brutal rally my 'divination' here shows.

Good luck.

Cheers,

Ivan Labrie.