Asian markets are bouncing modestly off a weak US session, buoyed by more unbelievable propaganda from Japan. Abe's proclamations that "deflationary mindset" has been shrugged off was met with calls for more stimulus, more debt monetization, and an admission by Etsuro Honda (Abe's closest adviser) that Japan "is not growing positively" and more QE is required despite trillions of Yen in money-printing having failed miserably, warning that raising taxes to pay for extra budget "would be suicidal." Japanese data was a disaster with factory output unexpectedly dropping 0.5% and retail trade missing. Markets are relatively stable at the open as China margin debt drop sto a 9-month low. PBOC strengthened the Yuan fix for the 3rd day in a row to its strongest in 3 weeks.
We begin the evening in Asia with some exceptional double-talk from who else but the Japanese leadership.
First Abe:
*ABE: WILL RESHUFFLE CABINET ON OCT. 7 (should fix everything)
*ABE: WOMEN AND ELDERLY SHOULD BE TAPPED BEFORE IMMIGRANTS (not quite sure what he means there)
*ABE: CLOSE TO ESCAPING DEFLATION (nope!)
*JAPAN HAS SHRUGGED OFF `DEFLATIONARY MINDSET,' ABE SAYS (nope!)
*JAPAN'S CPI HAS `MADE A TURNAROUND,' PRIME MINISTER ABE SAYS (nope!)
Japan just dipped back into deflation...
Then came Former Economy Minister Takenaka:
*TAKENAKA: JAPAN SHOULD COMPILE 5T YEN EXTRA BUDGET IN AUTUMN (fiscal stimulus, ok)
*TAKENAKA: FOLLOWED BY MORE BOJ EASING (well who else is going to monetize that debt?)
*TAKENAKA: YEN IN 'COMFORTABLE RANGE' OF 115-120 VS DOLLAR
Then one of Abe's closest advisers accidentally spilled some truthiness (as The FT reports):
Japan needs more economic stimulus to stave off a serious shock from China, according to one of Prime Minister Shinzo Abe's closest advisers.

 

Etsuro Honda, an architect of Abenomics in his role as special adviser to Mr Abe, said passing a supplementary budget to boost the stagnant economy was an "urgent task".

 

"I don't think we should call it a technical recession yet, but generally speaking, the Japanese economy is in a static situation," Mr Honda said in an interview with the Financial Times. "It is not growing positively."
And he is right - as Japan heads for Quintuple Dip recession...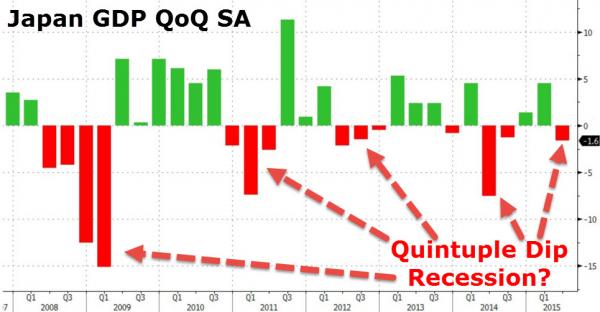 and it appears, despite China's reassurance, all is not well...
"I'm sure that something serious is happening in China," he said, arguing that a shift towards the service industry in China could not explain how far its imports have fallen, or other measures such as electricity consumption.
And do not even think about raising taxes to cover this additional budget...
Mr Honda said: "Definitely if something serious happens outside of Japan, like the Lehman shock, we cannot raise consumption tax. It would be suicidal.

 

"At this moment, all that I can say is 'I don't know'."
And then Japanese data hit - and it was a disaster...
Japan Aug. Industrial Production Falls 0.5% M/m; Est. +1% (oops!)
*JAPAN AUG. RETAIL SALES UNCHANGED M/M (Exp. +0.5%)
*  *  *
Following Daiichi Chuo's bankruptcy:
*DAIICHI CHUO SAYS FILED FOR BANKRUPTCY AFTER OVER INVESTING
*DAIICHI CHUO TRADES IN TOKYO, FALLS TO AS LOW AS 1 YEN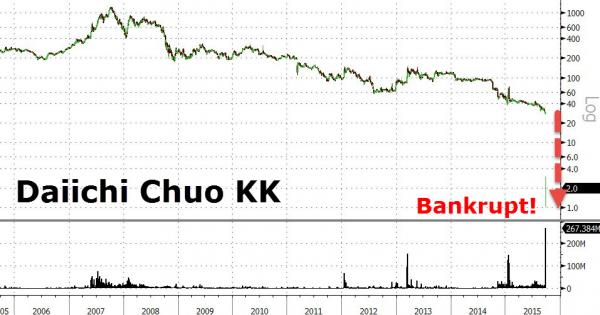 Other shipbuilders are under pressure:
*DAEWOO SHIPBUILDING FALLS 8% IN SEOUL TRADING
And today's bounce in Glencore has the rest of the commodity/miner sector in confidence-boostingh mode...
*FORTESCUE CEO SAYS CO. CAN WEATHER VOLATILITY IN MARKETS
*FORTESCUE IN 'FANTASTIC POSITION' AFTER CUTTING COSTS: CEO
*FORTESCUE COULD BRING IN INVESTOR TO SPEED DEBT PAYMENT: CEO
And Aussie miners are bouncing modestly (apart from South32)
*  *  *
China opened with more de-dollarization...
*PBOC TO PROMOTE CURRENCY SWAP COOPRATION W/ KYRGYZSTAN C. BANK

Central banks of two countries agree to promote cooperation in currency swap and local currency settlement, according to a statement posted on People's Bank of China website.
And some good news on deleveraging...
*SHANGHAI MARGIN DEBT BALANCE FALLS TO NINE-MONTH LOW

Outstanding balance of Shanghai margin lending dropped for fifth day, falling 0.8%, or 4.7b yuan, to 573.4b yuan on Tuesday, lowest level since Dec. 4.
The PBOC fixed The Yuan stronger for the 3rd day in a row (under pressure from offshore Yuan) to its strongest in 3 weeks
*CHINA SETS YUAN REFERENCE RATE AT 6.3613 AGAINST U.S. DOLLAR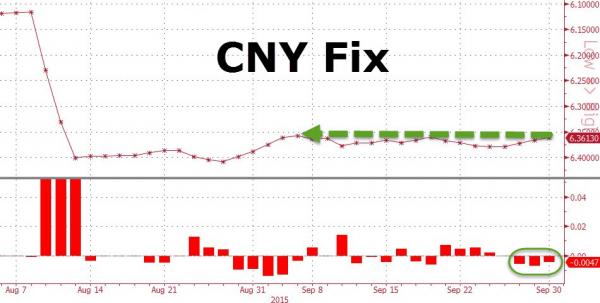 But offshore Yuan remains notably stronger than onshore still...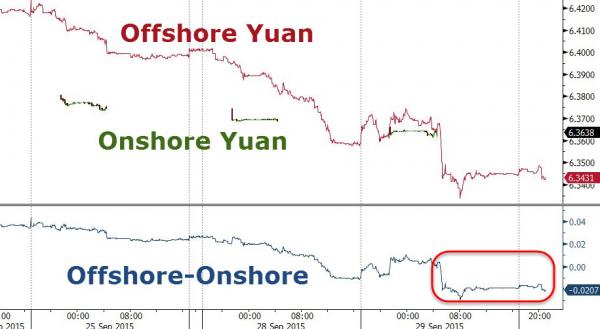 Chinese stocks are modestly higher pre-market...
*FTSE CHINA A50 OCTOBER FUTURES RISE 0.6% IN SINGAPORE
*CHINA'S CSI 300 STOCK-INDEX FUTURES RISE 0.8% TO 3,103.4
And Interbank lending markets remain entirely suppressed...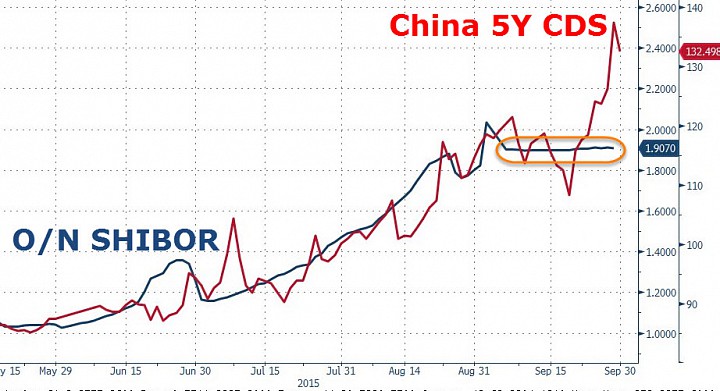 Here's why you may want to care about that...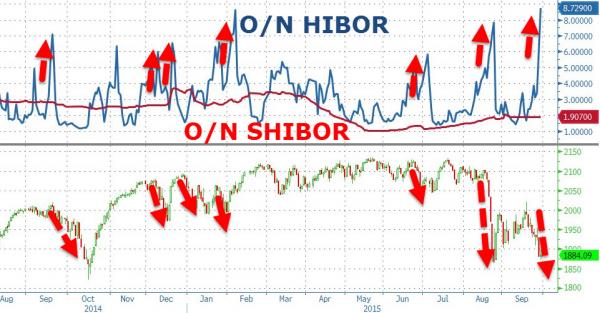 Simply put - as the mainland squeeze bleeds out to Hong Kong, it creates a liquidity suck out from the rest of the world, reducing carry trade 'power' and thus derisking any and every leveraged portfolio's exposure to US equities. When (or if) SHIBOR finally snaps then we will see the real impact (just as we saw shockwaves after CNY devalued unexpectedly).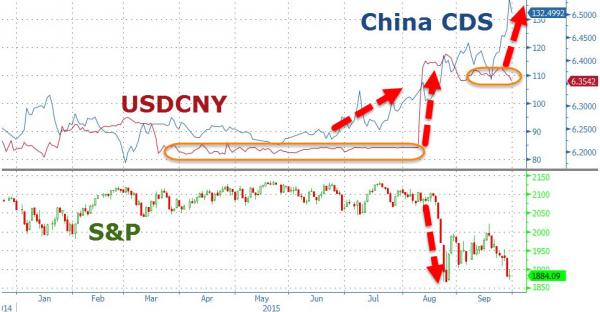 *  *  *
Crude has faded as Asia opens after the bigger than expected API inventory build...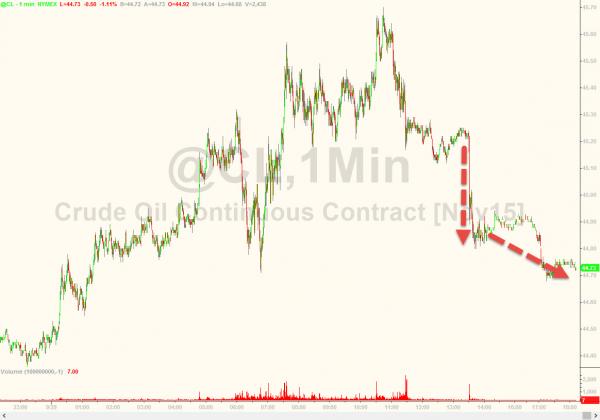 Charts: Bloomberg