The USD/JPY formed a clear double top last week. Even though the US NFP report was not THAT bad, the market seemed to have been disappointed at the end of the day, as we saw the USD slide across the board. 

USD/JPY 1H Chart 8/10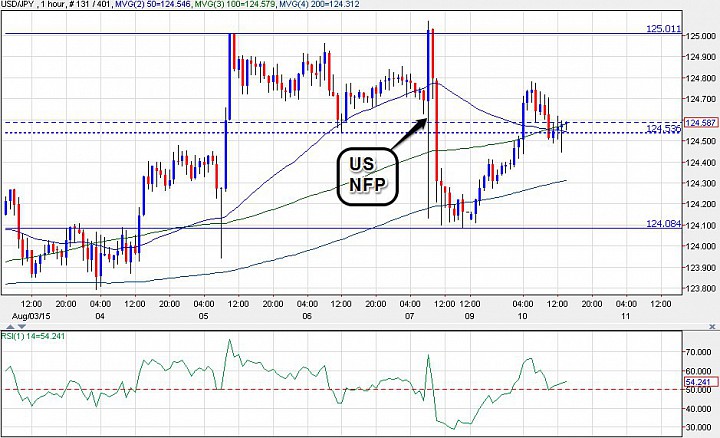 (click to enlarge)

The 1H chart shows that after the US jobs report the USD/JPY initially attempted to break above the previous high just above 125.00, but failed. Then, a sharp drop completed a double top. Price actually reached a range breakout projection (the double top range was about 50 pips and the USD/JPY reached about 50 pips below the double top base).

Now, price is back to test the double top for resistance. If price can hold below 124.80, there is more bearish correction at least in the short-term. This outlook would have the 122.00 level in sight. 

However, if price can close above 124.80 during a global session, it might reflect a bullish continuation scenario. This scenario has the 125.85 high on the year in sight, and if price can get back up there, we can anticipate a reach towards 126 with further upside risk in the medium-term, though there might be some short-term pullback.