Target price: 150.00 EUR
Current price: 159.00 EUR
Our opinion: downside potential
Street's opinion: downside potential
With this note, we continue adding consumer goods companies to our analysis scope, today from luxury goods industry. The LVMH group comprises 70 exceptional Houses that create high quality products. It is the only group present in all five major sectors of the luxury market:Wines & Spirits, Fashion & Leather Goods, Perfumes & Cosmetics, Watches & Jewelry and Selective Retailing. LVMH currently employs 120,000 people across the world and reported sales of 30.6 billion euros in 2014. LVMH is ranked first among luxury companies in Deloitte "Global Powers of Luxury Goods" report.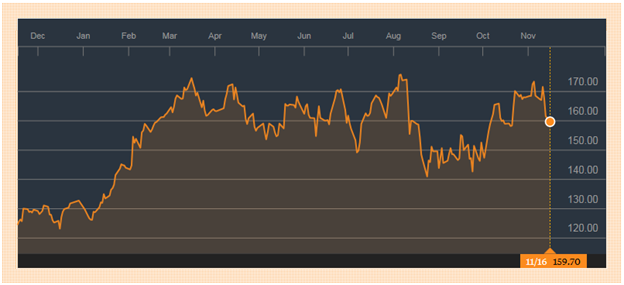 Source: Bloomberg
In our view Friday's attacks in Paris could hurt the luxury retail sector. "It's a concern for all business," said Fabrizio Ferraro, professor of strategic management at IESE Business School in Barcelona. "The key question is how big an impact these events will have on tourist flows. Consumption in the industry in Europe depends on tourism." Paris is the second-largest city for luxury-goods spending after New York, according to Bain& Co. Moreover, it is the most popular destination for tax-free shopping, accounting for about 20 percent of the market, according to Global Blue, which handles payment processing for tax-free shopping. The attacks come as the most important sales period approaches, with the last three months of the year accounting for about 30 percent of the industry's revenue on average.
Another factor that could impose a risk on the company is macroeconomic events, such as a recession in China, where LVMH generates the majority of its revenue. The company generates the biggest part of its income in China and is hugely dependent on Chinese upper- and middle-class. The Financial Times recently reported Louis Vuitton had closed three of its outlets in China. Now, LVMH has 43 boutiques in China. Emmanuel Hemmerlé, a partner at the consulting agency Emmanuele Hemmerle, predicts that Louis Vuitton will close about 20% of its stores in China by the middle of 2016. "Thus, the rate of decline will be about one boutique in a month" - he said in a conversation with the FT. One more notable reason for the decline in the luxury segment of the market is the anti-corruption policy, in particular a campaign against expensive gifts to official representatives.
On the contrary, Chinese tourists continue traveling to European and Asian countries, which is considered by the company to be one of the most important sales growth factors. Although, we expect the effect of the devaluation in luxury becoming more expensive for Chinese.
Although we find the multiple analysis to be a little bit ambiguous in this case, we still take it into account. With a P/E ratio of 14.2, LVMH trades at a discount to the industry average (23.7), it is also very cheap when we consider it from a historic point of view. In the last 10 years, LVMH traded on average between 11.1 and 37.9 times earnings, which means that it can currently be bought at the lower range of its historic P/E ratio.
Finally, our estimation of target price is primarily based on concerns about events in Paris and Chinese recession, so we set LVMH at a sell with downside potential at around 5 – 6%.
- AU