Summary
MPEL still seems expensive, despite risk to the Macau market as a whole and the possibility that Studio City might struggle against newer properties in Cotai.
MPEL's geographic and demographic exposure makes it a good proxy for Macau; being bearish on Macau makes MPEL an interesting short.
March revenue numbers will be key relative to the long-awaited "stabilization" in the market.
I still think there's 25%+ downside at MPEL in the mid-term.
I've long thought the optimism toward Macau over the past few months was a bit overdone, and earlier this month I decided to short one of the operators in the enclave. I narrowed my choices down to Wynn Resorts (NASDAQ:WYNN) and Melco Crown Entertainment (NASDAQ:MPEL), choosing MPEL largely due to the fact that I didn't think the bull run at WYNN had ended. At the moment, I'm about half right: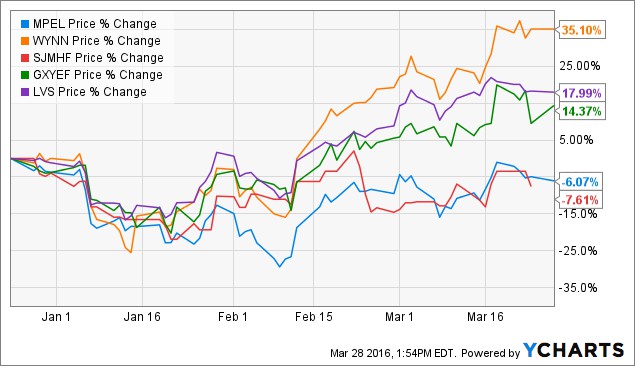 WYNN has continued to rise (though for reasons I can't understand; I thought it was overvalued at $70), while MPEL is essentially flat to my entry price. I'm OK with that at the moment; the chatter about Macau has been pretty quiet, with both sides of the long-running "the rebound is coming!" versus "this is still a bubble popping!" argument awaiting March revenue figures, likely to be released next Monday.
MPEL strikes me as the purest play on Macau; it does have operations in Manila, but those are still small relative to overall revenue and profits. In Macau, Melco Crown's exposure to 'new' and 'old' Cotai plus its mass-heavy emphasis both reflect the pillars of the bull case in Macau, and thus make the stock a natural target for investors like myself who disagree with that case.
Essentially, my short of MPEL is a proxy for shorting Macau overall, without the potential distortion from the US operations of WYNN or Las Vegas Sands (NYSE:LVS) (or the listing problems for me, anyway, relative to foreign- and OTC-listed securities like Sands China (OTCPK:SCHYY) or Galaxy Entertainment (OTCPK:GXYEY)). After Q4 results - which I thought were rather disappointing - I also see the possibility of MPEL lagging peers, as Studio City is overrun (both in terms of traffic and market 'buzz') by new properties from Wynn and MGM Resorts International (NYSE:MGM) (plus LVS' expansion of the Parisian). The March revenue figures should give some guidance for the near term, but beyond that, I still think MPEL is overvalued.
Q4 Earnings
The market pretty much yawned at Melco's Q4, though the stock already had rebounded sharply into the report after touching its lowest close in more than three years in early February. Of course, the market seems to always yawn at MPEL, which gets a fraction of the coverage that LVS and WYNN receive (at least here in the U.S.) despite having 16% of the market at the moment (against barely 9% for Wynn).
Revenue matched consensus, with a modest EPS beat, but there weren't any real surprises in the report. In Macau, City of Dreams saw revenue fall 25.3%, and Adjusted EBITDA decline 25%, as cost-cutting at the property managed to keep margins stable. Altira - Melco Crown's first casino in Macau - had revenue fall 18% and profits drop by nearly a third, despite a favorable win rate (3.3%).
Q4 included the first two months-plus of Studio City, Melco's flashy property on Cotai, the first in a series of new casinos in that still-new area. Those results appear to have met expectations, but on a reported basis show just how limited those expectations were. Revenue was $123 million; a run rate of about $180 million in a quarter where CoD and Altira saw their top lines compress by over $250 million combined...
More