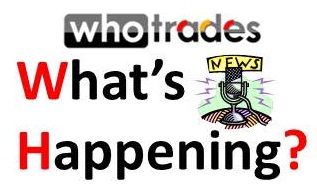 Upcoming S&P 500 Earnings Releases:
Monday, November 4, 2013
Before The Bell:
CME Group Inc.
Kellogg Co.
Spectra Energy 
Sysco Corp.
Vulcan Materials Company 
After The Bell:
Anadarko Petroleum Corp.
CF Industries Holdings, Inc.
D&B
Marathon Oil Corp. 
Newfield Exploration
Pioneer Natural Resources Company
Tenet Healthcare 
Unum Group
Vornado Realty Trust
---
Important Data Releases:
Sunday, November 3, 2013
Australia:
8:30PM EST Australian Bureau of Statistics will release Retail Sales m/m, which measures change in the total value of sales at the retail level.
Monday, November 4, 2013
UK:
5:30AM EST Markit will release Construction PMI, which measures the level of a diffusion index based on surveyed purchasing managers in the construction industry.
New Zealand:
5:45PM EST Statistics New Zealand will release Employment Change q/q, which measures change in the number of employed people, and will also release Unemployment Rate, which measures the percentage of total work force that is unemployed and actively seeking employment during the previous quarter.
Australia:
11:30PM EST Statistics Reserve Bank of Australia (RBA) will release Cash Rate, which measures the interest rate for overnight money market deposits, and will also release RBA Rate Statement, which is among the primary tools the RBA Reserve Bank Board uses to communicate with investors about monetary policy.