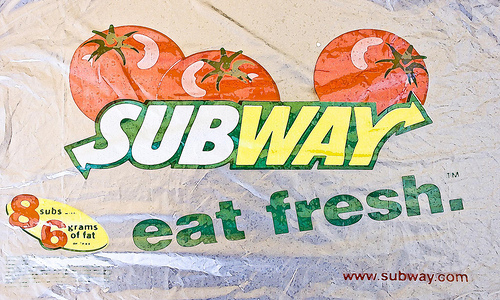 Subway, even before the most recent scandal involving its longtime spokesman Jared Fogle, was in need of a big time marketing overhaul.
The fast food company, which hosts more worldwide locations than burger behemoth McDonald's at 42,000 locations, saw sales drop 3% year-over-year, according to Business Insider.
According to Business Insider, this is the first rebrand for the home of the $5 Footlong in seven years.
Some rebranding efforts may consist of location redesigns. This means perhaps new uniforms for Subway employees as well as new, interactive ways for customers to order their food.
Further, if Subway wants to compete with the hottest fast causal brands like Chipotle and Shake Shack, the menu will need to see some alterations, as well. With customers wanting transparency when it comes to ingredients as well as the freshest options available, Subway will continue to sink if it doesn't make some changes, soon.
According to Business Insider, Subway has already announced it will be slowing cutting antibiotics from its food. However, in order to compete in this market it will need to make larger strides, more quickly.
For example, not just eliminating antibiotics from meat products, but taking notes from Panera Bread (NASDAQ: PNRA) and Chipotle (NYSE: CMG) by laminating all fillers and artificial ingredients, as well.
The Jared Fogle scandal will likely haunt Subway for years to come, leaving some customers vowing to never return. However, in order to save some sort of face, changes need to be made, quickly.
For more business and financial news, click here.
*This is editorial content and expresses the opinion of the author.