The EUR/JPY has followed up on its
break through an important resistance level earlier this week
, with follow through yesterday and today. This opens the door upside targets that have to be examined from a longer term perspective.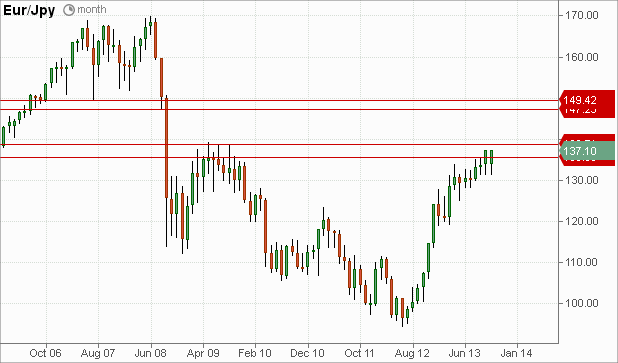 We have to zoom out to a monthly! chart in order to get a look at some previous resistance levels which can be used as upside targets.

One level is the 139.00 handle, which is about 200 pips away from current prices - that was the highs back in middle of 2009.
 If we have a push through those, then we may be looking at prices in this pair that came before the financial crash of 2008, up around 147 and 149.

Now those are long term projections and I don't expect prices to head that way in a straight line (and you would need some macro catalysts still) but if the 139 handle is broken, then we have to have that wider term context in mind when thinking about what may be next for this pair.
We also have to be aware that having made a strong rally, the pair may be susceptible to a pullback once it reaches key multi-year highs, so lets be extra cautious around 139.