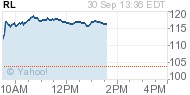 NEW YORK (AP) -- Ralph Lauren Corp.'s shares extended their rally Wednesday, a day after the fashion company announced it was hiring Old Navy's top talent to take over the CEO job.
Ralph Lauren, 75, who held the title, will remain as executive chairman and chief creative officer of the fashion and home decor business he created nearly 50 years ago. Stefan Larsson, global president of Gap's Old Navy chain, will become CEO in November and will report to Lauren.
Shares of the New York-based company rose 13 percent in midday trading Wednesday to $117.64, after climbing nearly 4 percent in after-hours trading Tuesday when the news was announced. It's a welcome shot in the arm, considering shares have slumped 44 percent this year, more than 21 percent in just the past three months as sales growth has slowed. The global fashion, home...
More