Visa Inc (NYSE: V ) and PayPal Holdings Inc (NASDAQ: PYPL ) have entered into a mutual agreement that will allow for PayPal-branded Visa debit cards. For the time being, these PayPal Visa debit cards will only be available in Europe, but assuming the arrangement goes off without a hitch, it's just a matter of time before PYPL begins offering Visa cards in the U.S.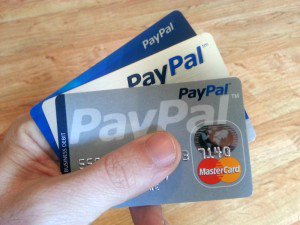 Source: Greg Gambone
PayPal already had a banking license in Europe and this deal will help it foray into the region's debit card market.
Consumers and merchants will be benefited by this alliance as the joint service should make their digital and mobile payments options secure, reliable and convenient digital.
This partnership will make it easier for financial institutions to offer their Visa account holders the ability to checkout anywhere PayPal is accepted online. The agreement should result in "more spending volume" on Visa cards.
The partnership also includes the participation of Visa Digital Enablement Program (VDEP) in Europe. Visa's VDEP service...
More