On Jul 10, we issued an updated research report on Chesterbrook, PA-based AmerisourceBergen Corporation ABC – one of the world's largest pharmaceutical services companies, which focuses on providing drug distribution and related services to reduce health care costs and improve patient outcome. The company currently has a Zacks Rank #4 (Sell).
AmerisourceBergen took over PharMEDium Healthcare Holdings for $2.58 billion back in 2015. We believe that the temporary slowdown in PharMEDium growth will mar AmerisourceBergen's bottom line in the coming quarters. Notably, the company aims to boost its investments to enhance PharMEDium's QA and QC (quality assurance and quality control) systems in terms of product quality and patient safety. Although this lends AmerisourceBergen a competitive advantage over the long haul, this might result in a bottom-line headwind for the business in fiscal 2017.
Lackluster performance in the hepatitis C revenue segment is another concern. In this regard, AmerisourceBergen saw a significant negative revenue impact from the declining sales at the segment in the second quarter. Revenues improved only 4% to $37.1 billion in the quarter, which might have been around 5.5% without the adverse impact of the hepatitis C segment.
Cutthroat competition in the niche space is an added concern. AmerisourceBergen operates in a highly competitive pharmaceutical distribution and related health care services market. The company's primary competitors include Cardinal Health CAH and McKesson MCK along with national generic and regional distributors.
The generic industry is facing consolidation of customers and manufacturers, globalization and increasing quality along with regulatory challenges. The company also faces competition from manufacturers, chain drugstores, specialty distributors and packaging and health care technology companies.
AmerisourceBergen had an unimpressive run on the bourse over the last one month, trading below the broader industry in terms of price performance. A glimpse at the share price movement reveals that AmerisourceBergen's shares have inched just 0.1% up in the past one month, comparing unfavorably with the 3.2% rise of the Zacks classified Medical/Dental-Supplies industry.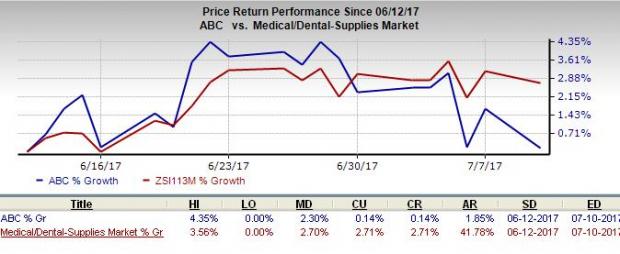 The unfavorable performance was led by pricing pressure in the generic drug space and lackluster guidance for the full year. AmerisourceBergen expects fiscal 2017 revenue growth in the range of 5.5% to 6.5%, significantly lower than the previous 6.5% to 8% band. The company expects brand drug inflation in the range of 7% to 9%.
A better-ranked stock in the broader medical sector is CryoLife, Inc. CRY, with a Zacks Rank #2 (Buy). You can see the complete list of today's Zacks #1 Rank (Strong Buy) stocks here.
CryoLife yielded a strong return of 3.2% over the last one month. The stock posted a positive earnings surprise of 80% in the last reported quarter.
More Stock News: 8 Companies Verge on Apple-Like Run
Did you miss Apple's 9X stock explosion after they launched their iPhone in 2007? Now 2017 looks to be a pivotal year to get in on another emerging technology expected to rock the market. Demand could soar from almost nothing to $42 billion by 2025. Reports suggest it could save 10 million lives per decade which could in turn save $200 billion in U.S. healthcare costs.
A bonus Zacks Special Report names this breakthrough and the 8 best stocks to exploit it. Like Apple in 2007, these companies are already strong and coiling for potential mega-gains. Click to see them right now >>
Want the latest recommendations from Zacks Investment Research? Today, you can download 7 Best Stocks for the Next 30 Days.
Click to get this free report
CryoLife, Inc. (CRY): Free Stock Analysis Report
AmerisourceBergen Corporation (Holding Co) (ABC): Free Stock Analysis Report
McKesson Corporation (MCK): Free Stock Analysis Report
Cardinal Health, Inc. (CAH): Free Stock Analysis Report
To read this article on Zacks.com click here.
Zacks Investment Research