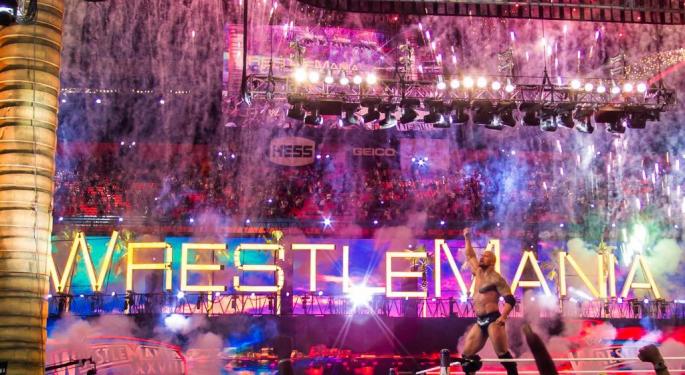 ESPN's coverage of professional wrestling is officially no longer tongue-in-cheek. In a press release today, Walt Disney Co's DIS 0.09% ESPN announced the launch of a new vertical dedicated entirely to coverage of World Wrestling Entertainment, Inc. WWE 2.6% and other pro wrestling news.
"The section will serve as a one-stop destination for content including match results, features, wrestler profiles, rankings, international wrestling , video and more," ESPN said.
WWE shares are up 2.7 percent to $20.92 on Thursday following the news.
ESPN's coverage of WWE performances alongside competitive sports events is a controversial topic among sports fans.
Peter Kafka pointed out on Twitter that ESPN's new initiative is a sharp 180-degree turn from president John Skipper's stance on pro wrestling back in February.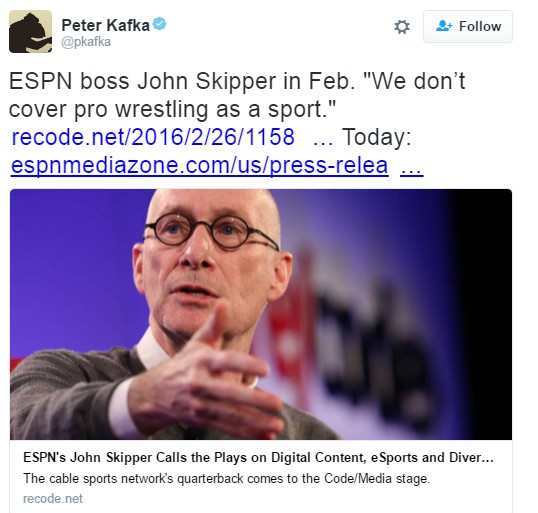 Just six months ago, Skipper told Re/code, "We don't cover pro wrestling as a sport."
"Professional wrestling fans are sports fans who are mobile, global and passionate," ESPN VP Chad Millman said in today's press release. "That's the audience we're in the business of serving.
ESPN contributors Brian Campbell, Arash Markazi, Darren Rovell and KC Joyner will be among the initial pro wrestling team.
WWE shares are now up 17.9 percent in 2016. At just shy of $21, WWE stock is still short of its all-time high of $29.77 back in spring 2014.
© 2016 Benzinga.com. Benzinga does not provide investment advice. All rights reserved.