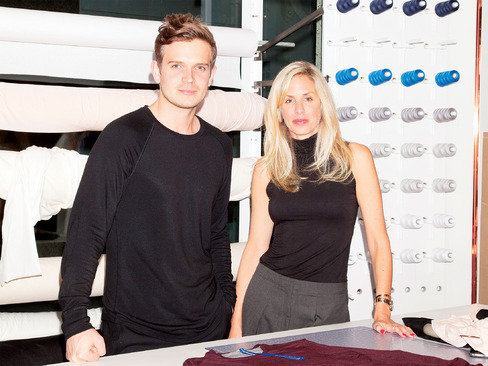 Cashmere has been collected from the undercoats of Mongolian goats for hundreds of years. "Technical cashmere" has been around for about two. It's the creation of Shannon Wilson, the former lead designer for Lululemon Athletica who's married to the company's founder, Chip Wilson. The fabric is only 10 percent cashmere, blended with spandex and cotton or rayon. It's the foundation for Kit & Ace, an apparel company Shannon began by selling slouchy $80 T-shirts to the so-called creative class.
"We have to make sure we're providing function and performance," Shannon says. "And time, right? The biggest thing is time," adds JJ Wilson, co-founder of Kit & Ace, former creative director for "men's vision" at Lululemon, and Shannon's stepson. Shannon is the new company's creative director; JJ is brand director. Chip, for now, is an informal adviser and financial backer, albeit one with unusual access to the founders. Kit and Ace are fictional muses, a single woman and man who are creative, active problem-solvers.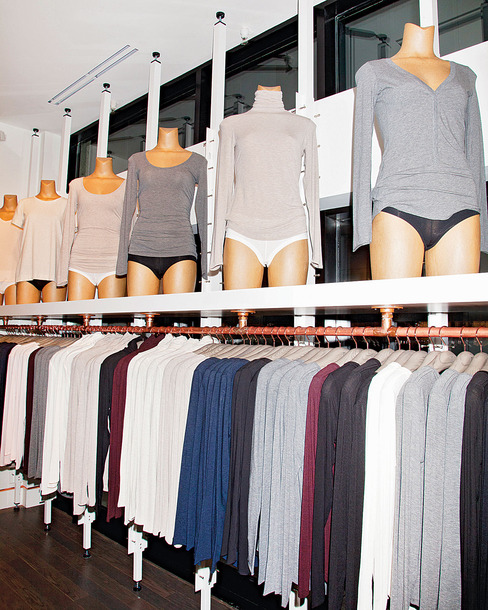 JJ points to a white neon sign, hanging on a white wall in the Kit & Ace boutique in Manhattan's Nolita. "Time is precious," it says. Time is too precious to spend at the dry cleaners, so the Wilsons' fabric is machine-washable. There are 31 stores, where JJ has selected local art for the walls and local lighting for the ceilings. Two have coffee shops inside. Four are called ateliers. A copper-colored Airstream is parked on the street outside the New York store; it doesn't sell clothes but serves to "engage the creative class," says a Kit & Ace spokeswoman. The Copper Studio, as the Airstream is named, will head Down Under this spring to engage its creatives.
At Lululemon, the Wilsons embodied the "athleisure" trend. Activewear has grown to be a $41 billion industry in the U.S. in the last year, according to NPD Group. And Lululemon was at the forefront—with yoga and workout pants flattering enough to wear to brunch after a spin class. For Kit & Ace, Shannon and JJ want to design clothes that turn that notion on its head. "We're going in the exact opposite direction," she says. "We're taking the best of technical apparel and applying it to the street." They say Kit & Ace isn't competing with Lululemon. They have little reason to—the family still owns about 14 percent of that company, a stake now valued at a billion dollars. But if Lululemon starts to design streetwear, JJ says, "that would be Lululemon competing with us."
The Wilsons opened the first Kit & Ace in the summer of 2014 in Vancouver, where they live. Since then, they've expanded in Canada, the U.S., and Australia. They plan to double the number by mid-2016, to turn a profit by 2018, and, according to a recruiting video, to bring in sales of $1 billion in five years. It took Lululemon more than a decade to become a...
More