##Symbol##ULTA
➜ ULTA generates $1.14 in revenue for every $1 in expense, which is above the sector average of $1.06.
ULTA Salon (ULTA) is perhaps the single most compelling retail stock in the United States. It's growing revenue, operating margins, earnings, free cash flow and capital expenditures are all growing. The stock continues to make new all-time highs, up 83% in the last year and up 14% in the last quarter, even as the broader market has stumbled. The firm aims much of its growth efforts at Millenials and continues to execute both in the on-line space and brick-and-mortar.
How unique is ULTA? Well, if we scan the entire retail sector for companies above $10 billion in market cap, with bullish technicals and a five star fundamental rating from Capital Market Laboratories (CMLviz.com), we find only six companies in the entire United States that meet those criteria. Here is a snapshot of that exact scan.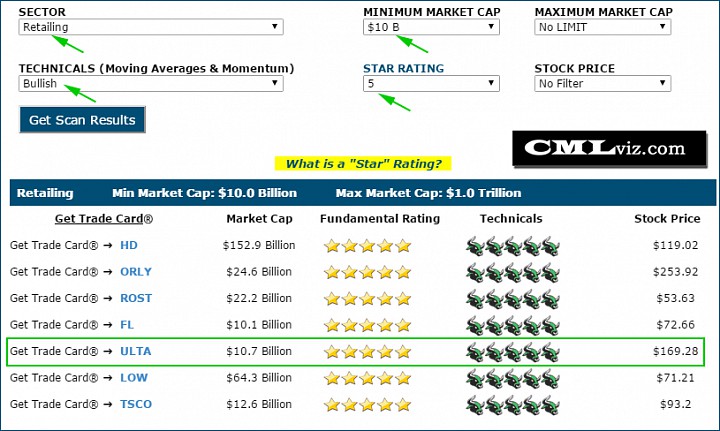 Click Here to Interact With This Image
Honorable mention goes to The Home Depot (HD) and Ross Stores (ROST).
On its most recent earnings call (May 29th), ULTA revealed nearly 50% growth growth in e-commerce. The company has had remarkable success with its loyalty program which has now reached 15.5 million active members, resulting from increased retention and strong growth. Let's look at a chart of revenue (TTM) in the blue bars and net income (TTM) in the orange line, below.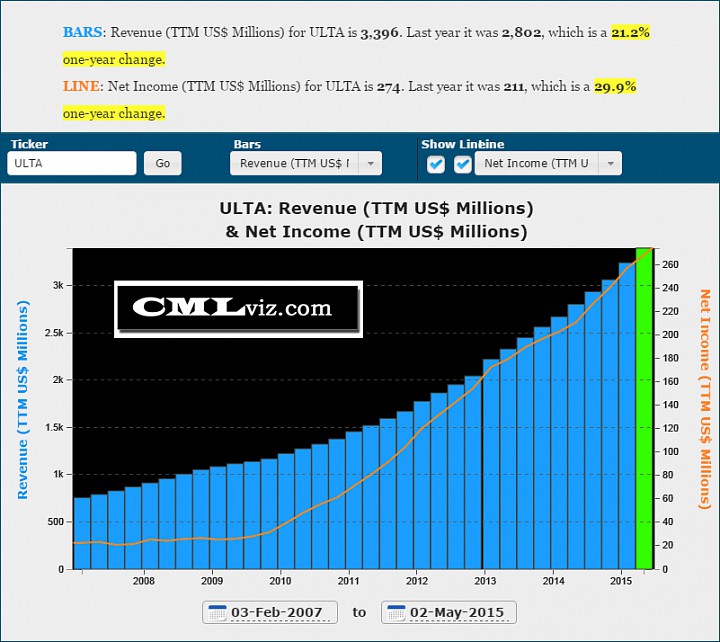 Click Here to Interact With This Image
We can see that revenue (TTM) is up over 21% and net income (TTM) is up nearly 30%. Revenue has grown nearly 46% over the last two-years and net income has grown over 52% in the last two-years.
The company...
More