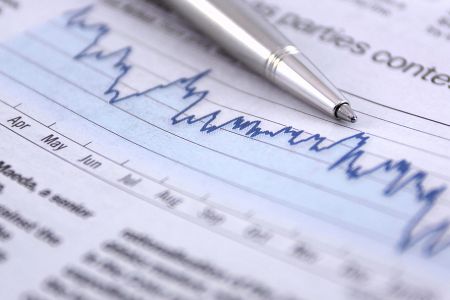 Back-to-back spinning tops suggest indecision on the chart of the S&P 500 Index.
**NEW** As part of the ongoing process to offer new and up-to-date information regarding seasonal and technical investing, we are adding a section to the daily reports that details the stocks that are entering their period of seasonal strength, based on average historical start dates.   Stocks highlighted are for information purposes only and should not be considered as advice to purchase or to sell mentioned securities.   As always, the use of technical and fundamental analysis is encouraged in order to fine tune entry and exit points to average seasonal trends.
Stocks Entering Period of Seasonal Strength Today: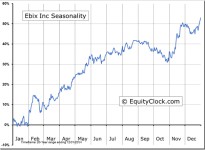 The Markets
Stocks moved slightly lower on Wednesday as investors reacted to comments from Janet Yellen, who maintained the possibility of a rate hike in December.  The S&P 500 Index shed 0.35%, closing around the psychologically important 2100 level.  Trading activity over the past two days has charted back-to-back spinning-top candlestick patterns, suggesting indecision amongst investors as bulls and bears attempt to gain control.  These spinning-top patterns can mark an inflection point to the prevailing trend of the market, which would imply the next move may be lower, assuming the bulls cannot retain the upper-hand.  Daily momentum indicators are hovering at or near overbought levels, implying a retracement is certainly due.  Following the first week of November and as earnings season winds down, the broad equity market tends to drift, losing upside momentum as the fundamental catalyst comes to an end.  The focus quickly turns to the Thanksgiving holiday, or perhaps, more importantly, the Black Friday shopping bonanza, which typically gives lift to broad market benchmarks in the weeks surrounding the event.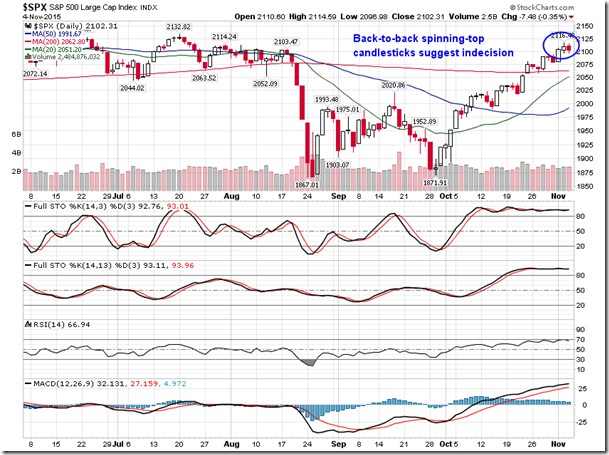 Meanwhile, in yesterday's Stock Market Outlook, we discussed how the S&P 500 Energy sector was testing the upper bound of a declining trend channel that has spanned the last year and a half.  The energy sector traded off of that limit on Wednesday following another report that indicated a build in oil inventories.  Inventories rose by 2.8 million barrels last week, forcing the price of WTI Crude lower by 2.31% on Wednesday.  Despite another large build, the days of supply grew by the smallest amount since September, up just one-tenth of a day to 31.2.  This represents, yet again, a new 30-year high.  Down the pipeline, gasoline inventories fell by a sharp 3.3 million barrels, which resulted in a half day decline in supply.  The current level of supplies, at 23.4 days, is precisely inline with the average for this time of year.  The days of supply of gasoline typically hits a low in early November and rises into the month of December as refineries come back online.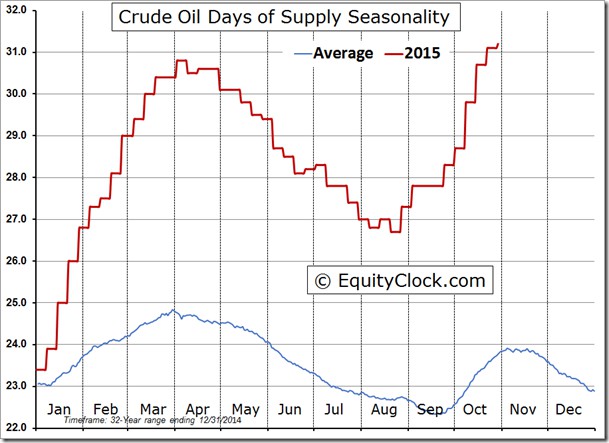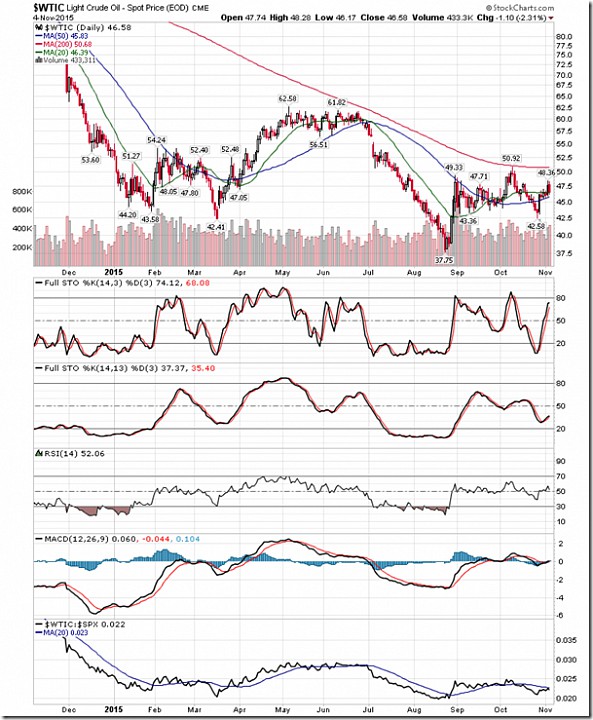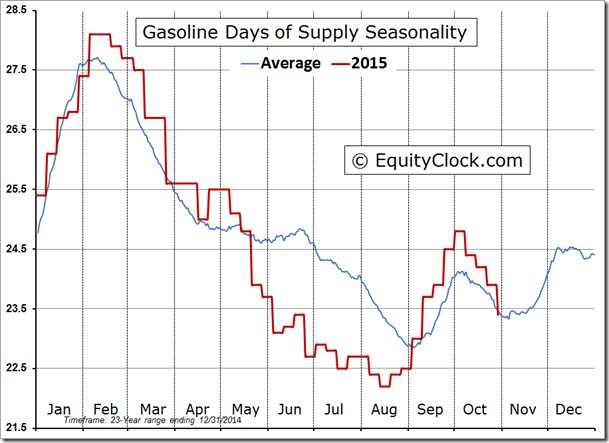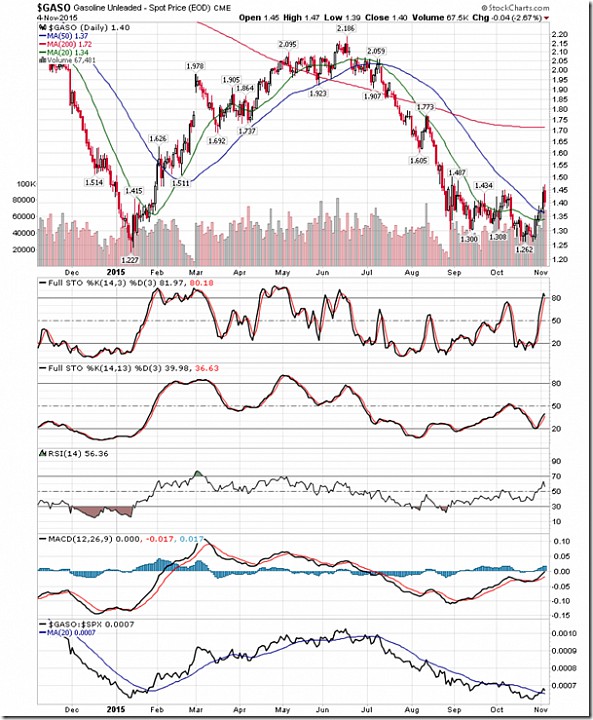 Sentiment on Wednesday, as gauged by the put-call ratio, ended neutral at 1.00.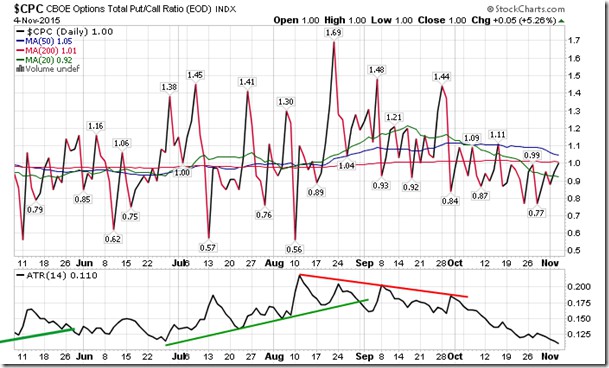 Seasonal charts of companies reporting earnings today:
 
S&P 500 Index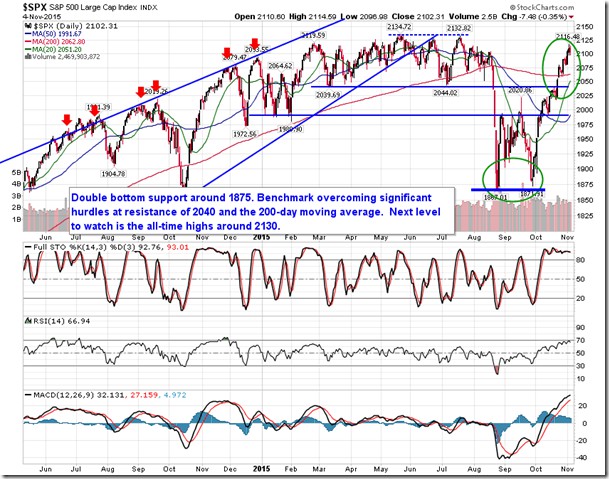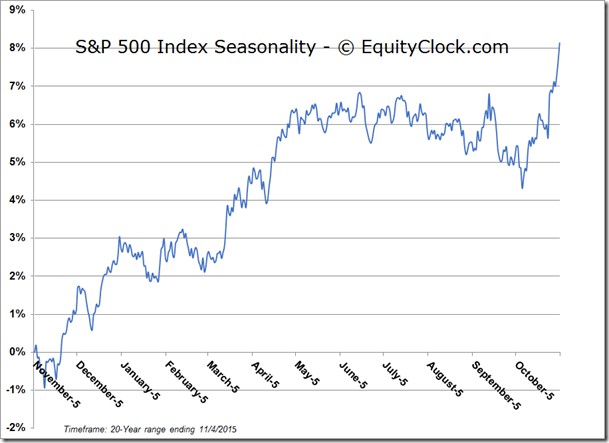 TSE Composite