Summary
ANF continues to report dismal results but investors are buying the stock anyway.
That has created a situation where the stock is wildly overvalued.
At 21 times forward earnings the stock is very expensive considering ANF's continue struggles.
Back in June I published a piece on apparel retailer Abercrombie & Fitch (NYSE:ANF) that stated the company's shares had 40% downside. At the time the stock was trading for just over $20 and the company had just reported a terrible quarter. If we fast forward to today, the stock is a couple of percent away from where I said it was overvalued so not much has changed there and we also received another earnings report I found to have some troubling data points in it. Essentially, we are right where we were in June, so in this article, I'll take another look at ANF to see if I still think it is a short or if enough time has passed that it may be worth a look on the long side.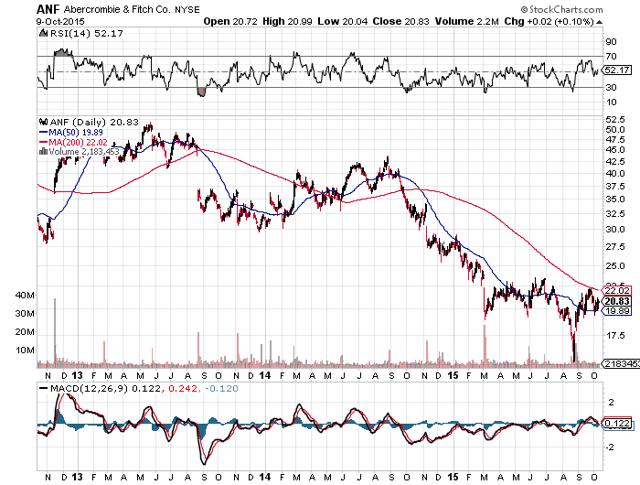 The main points of my argument that ANF was overvalued in June were simply that its comp sales and margin numbers were terrible. These are perhaps the two most important metrics for any retailer and ANF has been miserable in each circumstance for a long time. The comp sales pain continued in Q2 as the company's consolidated comp came in at negative 4%. This was due to not only the Hollister brands' 1% loss but another staggering 7% loss for the flagship brand. This hemorrhaging of comp sales was the main point I made regarding ANF in June; a company that is shrinking this rapidly is alarming and the valuation of the stock should reflect that reality. In my opinion, ANF shares do not respect the fact that the business is...
More