<!== INSTRUMENT %% %240% ==!>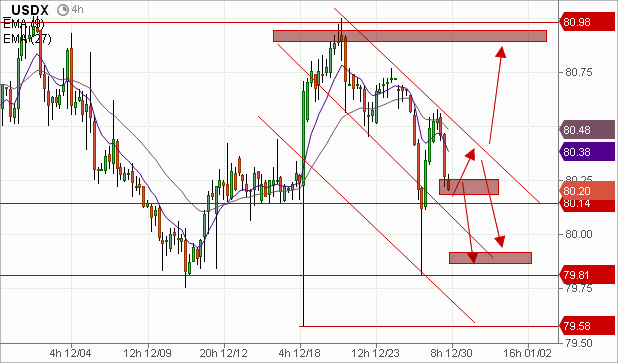 Weak USD Scenario:  The USD index, after running up and tagging the 81 level after the FOMC announcement, the USD has been in a short-term downswing. It starts the week, limping into a support zone at 80.15 that is important for where the pair goes next. One scenario (the bearish USD case) is that 80.15 does not provide support and then a larger fall to around 79.80 or 79.60 is possible.

Pullback and Continuation: While the pair is in a short term downswing, there could be a pullback to the downward sloping resistance trendline which comes in around 80.40. From there, it would be important to monitor which way the pair goes next. In this scenario, I'll look for continuation of the USD bearish tone. By waiting for the pullback, the risk/reward on any shorts will be better than in scenario 1. 

USD Strength Returns: In the 3rd scenario, the downward channel does not contain price and the resistance trendline is broken to the upside. In this scenario, risk sentiment has turned in favor of the USD, and so it may be better to look to see if the USD can reverse momentum and extend any bounce off support back towards the 0.81 level. 
What the USD Index does directly translates to other USD crosses such as the EUR/USD -
which I looked at here
.