Marin Software operates a cloud-based digital advertising management platform. The company provides lots of instruments for marketing campaign analysis. The company's stock lost almost 50% since mid-June and more than 80% from the IPO price. We saw the same picture for other AdTech companies before, Marin Software is not the exception. 
<!== INSTRUMENT %% %10080% ==!>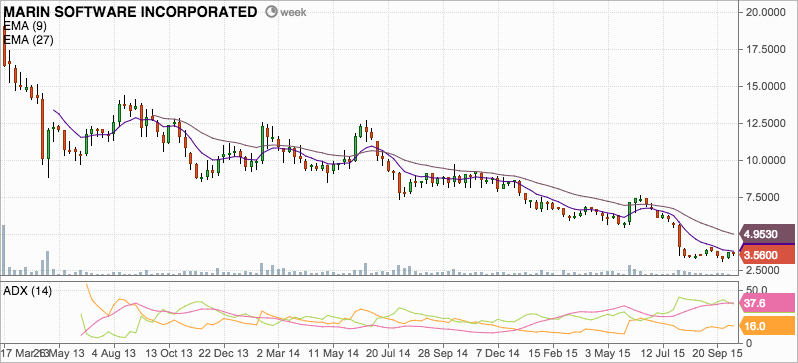 Is it the bottom of the stock price? Let's check it step by step. The business model is based on a monthly subscription fee, so the net revenue is the actual revenue of the company without any media costs for traffic acquisition. 
Operating and financial metrics
The company increased its number of active advertisers from 531 in 2012 to 818 in 2015. Moreover, the number of advertisers continues its growing: as of June 2015 the company had 853 active accounts. I assume that the company is able to keep the same growth rate and increase the number of advertisers over the next several years. However, the market becomes more and more competitive, the best technological solution is going to get the greatest market share. At the moment, it's very difficult to define the most effective solution. 
Average revenue per account grew up as well from $112K in 2012 to $121K in 2014. The company continues to increase its ARPA: for example it increased its ARPA from $60K as of June 2014 to $62K as of June 2015. I think that the company will most likely keep this small growth rate over the next several years. 
Customer acquisition cost is growing, however the marketing expenses as % of revenue is dropping down. The company decreased its marketing and sales expenses as % of revenue from around 55% in 2012 to 48% in 2014. As of March 2015 marketing expenses were around 46% of revenue, as June 2015 around 47%. The trend is good, the company is working on cost optimization and increasing its marginality. 
Product development costs for such companies as Marin Software are the most important. So the company increased the product development cost from 24% of revenue in 2012 to 29% and keeps the same trend in 2015. Growth rate of product development costs is so high that it almost kills the company's marginality. 
The whole strategy of the company put money to the product development without significant increase in ARPA is the most effective. I think that the company will be able to keep most of active advertisers, prove the market that their technology is among most effective. I think that the development of the whole market will push the Marin Software's stock price higher. I think that the company has a high potential in long-term.