For anyone who has traded RadioShack's bonds or stocks over the last decade or so, the constant threat of an LBO has been the bane of any fundamental analysis as one Credit Suisse memorably described it as "a company in a virtual state of constant collapse." It appears, with multiple default notices this week and the news that NYSE will suspend/delist trading in the ever-on-the-block company, that the 'LBO rumor' threat is over. With several firms (Sprint, Sanpower, and Amazon) mulling post-bankruptcy purchases, the concept of a pre-petition savior appears dead in the water...
It's been a wild ride for stocks...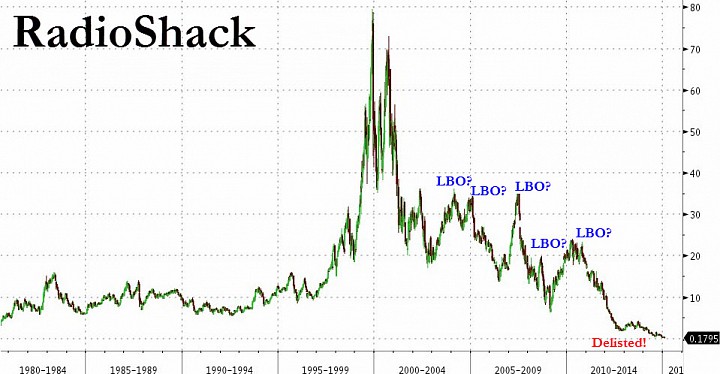 *  *  *
"Once again, people are speculating that RadioShack is the subject of an LBO"
– Reuters, December 2006
"In a recent report, Deutsche Bank Securities compiled a list of 25 companies whose options have been targeted by buyout speculators. It includes….RadioShack Corp."
– Wall Street Journal, May 14, 2007
"In recent weeks, RadioShack has been the target of lots of speculation….A week ago, the stock shot up….on rumors about a private equity buyout…
– Nightly Business Report March 10, 2010
RadioShack: Could This Finally Be the Year for a Buyout?
- WSJ, March 26, 2010
And now...
RadioShack Trading Suspended at NYSE
- Bloomberg, Feb 2, 2015
*  *  *
They think it's all over...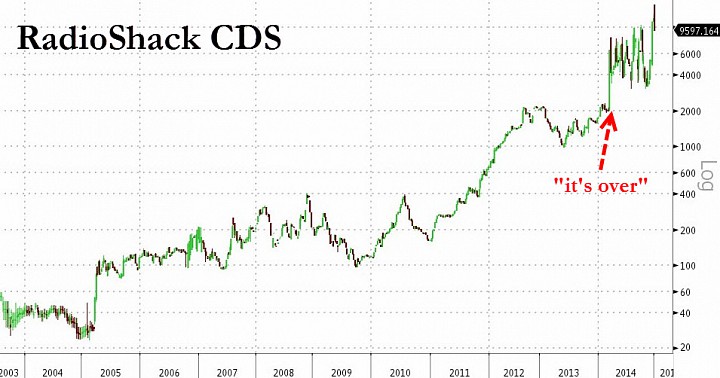 Well it is now.
*NYSE TO SUSPEND TRADING IMMEDIATELY IN RADIOSHACK CORP. AND
*NYSE TAKING ACTION TO DELIST THE COMMON STOCK OF RADIOSHACK
*RADIOSHACK SAID TO PLAN FOR BANKRUPTCY FILING TOMORROW: WSJ