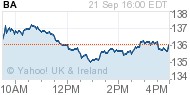 Plans for a Boeing (NYSE: BA - news) factory in China have been submitted to the government in Beijing, state-run media reported Tuesday ahead of President Xi Jinping's US visit, where he will tour one of its plants.
A Boeing factory in China would represent an about-turn in the US giant's strategy in the crucial market, where European rival Airbus has a final assembly operation for medium-range Airbus 320 aircraft in the northern port of Tianjin and plans to open a new completion and delivery centre for long-haul A-330s.
A plan for the Boeing plant in Zhoushan, in the eastern province of...
More