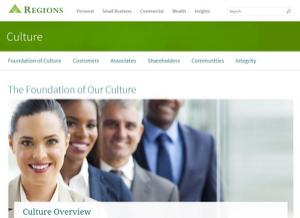 BIRMINGHAM, Ala.--(BUSINESS WIRE)--
Regions Bank on Tuesday announced the launch of a new web channel dedicated exclusively to sharing information on the company's culture.
This Smart News Release features multimedia. View the full release here: http://www.businesswire.com/news/home/20150929005167/en/
Optimized for both desktop and mobile viewing, Regions.com/culture serves as a central location for articles, videos and personal stories describing how Regions conducts business and the company's approach to community involvement and support.
"Culture is one of the most powerful forces in an organization, and we wanted to give people a better understanding of who we are," said Rick Swagler, head of External Affairs for Regions Bank. "Our culture includes commitments to customers, communities, shareholders and our associates, and this site brings those commitments to...
More